To be completely honest I have no fucking idea where to start off this review. It's been ages since I've written down my thoughts about a movie in a proper review form. With all that time passing it seems I have forgotten how to word my thoughts and opinions. But there's one thing I'm completely sure of. House of Gucci is a mess that tries too hard to hide its imperfections.
Spoiler warning.
WHEN LOVE TURNS SOUR
In the center of the movie House of Gucci are Patrizia Reggiani and Maurizio Gucci, portrayed respectively by Lady Gaga and Adam Driver. The movie starts off with them meeting, Patrizia being instantly interested and pursuing Maurizio with confidence.
Their love blooms while Maurizio has a fight with his father Rodolfo (Jeremy Irons) and ends up leaving the family to be with Patrizia. In a way proving that his love is real. Same goes for Patrizia who welcomes him with open arms and they seem to settle into a perfect dynamic apart from the Gucci empire. For a minute you think their love is perfect and will withstand all hardships.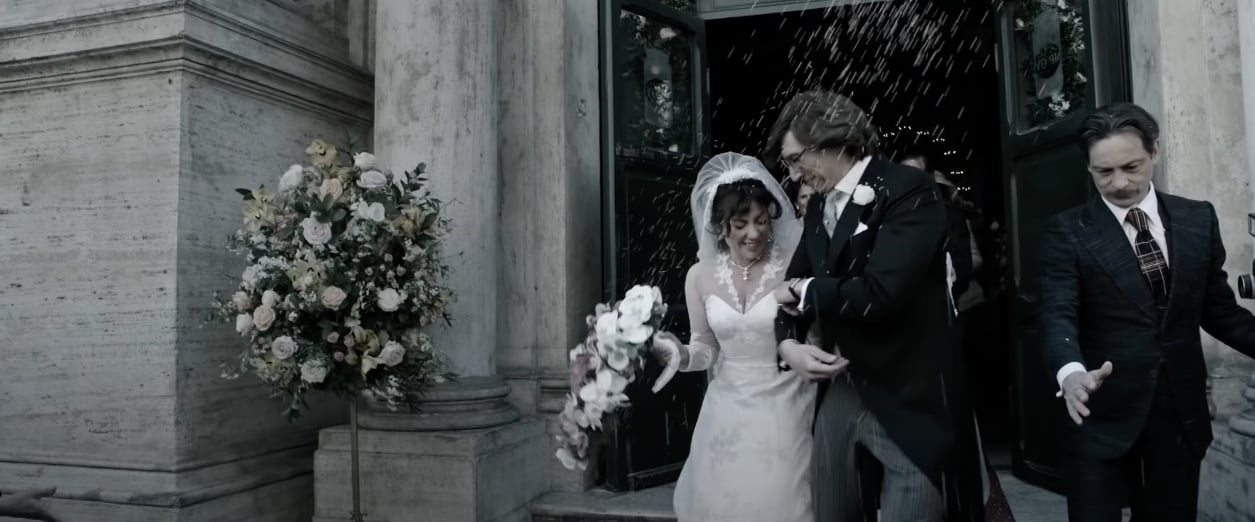 But after meeting Maurizio's uncle Aldo (Al Pacino) Patrizia starts to crave for more, she gets hungry for the Gucci power. Suddenly she is pushing her husband who at this point is happy to be far away from the family business towards Gucci.
When Patrizia's greed infects Maurizio their love turns sour and their marriage starts to crumble. They break up with Maurizio getting blindsided with success. Stabbing his uncle and nephew Paulo (Jared Leto) in the back Maurizio gets Gucci all to his own. That is until he loses the family business.
Meanwhile blinded by jealousy and deluded by psychic Pina (Salma Hayek) Patrizia seeks revenge. And what better revenge than death, right!? So instead of trying to mend things with words Patrizia hires two hitmen to kill Maurizio. Bang-bang-bang, he is dead and two years later Patrizia, Pina and two hitmen all go to jail.
WE'RE NOT IN ITALY ANYMORE
Before I get to the stuff that really bothered me I'll leave a bit of praise for House of Gucci. The dynamic between Lady Gaga and Adam Driver is great here! They fit well, the first half of the movie is really its strong point and both actors give a brilliant performance. Their love, when it is in its high point, oozes from the screen. The chemistry is on point and Gaga looks magnificent thanks to the costume department.
So the costumes and the make up in general were great! There were many good style moments, the dresses looked fabulous and Gaga really stood out in a good way. With that…  I think there's just bad left for me and I'm super disappointed about that.
My biggest beef with House of Gucci is that it does something that I've started to hate. It tells a story in Italy but in English with an Italian accent and a few Italian phrases here and there. Where are we? Are we in Italy or are we in the States? Why are we suddenly saying goodbye in Italian but then continuing our conversation in English? Since it is something that is part of the movie from start to finish I found it incredibly hard to not be annoyed by this.

It rips the culture away from Italy because it never really settles into Italy. It feels like we're in this limbo of a place that doesn't feel authentic. The costumes fit that European style, the hairstyles feel very European but the characters, all of them, feel out of place. I'm pretty sure Jeremy Irons didn't even fucking try to do an italian accent. He sounded like Jeremy Irons and it felt so weird to have Driver in the same space, trying his all to put on an italian accent, while his "father" sounded British.
Then we have Jared Leto in heavy make up acting in a completely different movie. He was so over the top, his accent was on another level and his Paulo irked me the most. Since he was putting on the strongest accent he imbalanced House of Gucci to a level of tacky. Which I don't think the movie wanted to be but it sort felt like it. And I'm not sure it's a good thing because it felt rude.
The script feels weak compared to what the actual true story is inspired by as well. I wish it were more like Succession where writers toy with humour in a way that doesn't cheapen the end result. Sure camp is a style that feels different and it is not for everyone. But I think House of Gucci just misses the bullseye in this genre and ends up being off putting.

Main point being that it's delivery is not equally great. Everyone is giving different levels and genres of performance. So it felt like everyone was on a different page and nobody really knew what House of Gucci was trying to be. Jared Leto was literally doing something in a completely different planet.
And I get that these could be just my problems so I'm willing to look past them but I don't think House of Gucci is as good as it thinks it is.
The movie drags a lot in the second half. And since it focuses a lot on the relationship between Maurizio and Patrizia in the beginning, the movie loses its footing when they are ripped apart. As Gaga and Driver are the driving force, the power of House of Gucci diminishes when their chemistry is put out and the movie moves into the family business drama.
Plus what saddens me the most is the fact that we don't get to see the murder investigation unfold. We don't get anything from the court, we just are left with reading it all from the screen and the story feels incomplete. The fashion side of Gucci is also left to the background. So much so that the glimpses we get actually feel pointless.
FINAL THOUGHTS
As you can tell I wasn't a huge fan of House of Gucci and it pains me to say so. I walked into the cinema thinking I'd walk out pleased. Instead I had this unsettling feeling in mind and that feeling didn't disappear after a good night sleep. Not entirely sure if House of Gucci is simply too camp for my taste or if it really is as bad as I think it is… But I will still not be adding this to my favourites.
Adam Driver looked great, Gaga has a lot of potential for the big screen but I preferred her A Star is Born performance over this. Though them together is bang worthy! Like I loved their onscreen chemistry a lot so at least there's that to be happy about.
5