As promised on Monday, this Veronica Mars week will end with the not-so-positive movie review and hopefully by now all of you hardcore Marshmallows understand that this review I'm about to write doesn't come lightly to me. I loved the series, I adore Kristen Bell and I'm super happy about the fact that Rob Thomas made this movie with the fans and for the fans but all of that aside, Veronica Mars (Bell) just didn't have that kick she had 10 years ago!
When the show was cancelled in 2007 it really hurt and in a way, I was still hurting before the movie came out because the story felt unfinished and some of us didn't really get what we always wanted: Veronica and Logan  getting back together again! So in a way, Veronica Mars (2014) was made to give us closure, and maybe that's what everybody involved with the series felt as well since almost every single cast member came back! But in the end it doesn't matter if everybody is back, it doesn't matter that we get to fangirl over Veronica and Logan again, and it surely doesn't matter if we get the happy ending we've always wanted if the movie feels like an extended episode that doesn't really hit all the right marks.
The plot of the movie is as predictable as the outcome of it, Logan Echolls (Jason Dohring) is accused of murder…. again. Now, for a fan like me, it should feel comforting because this was a reoccurring theme in the series but it's been 10 years, surely Rob Thomas, the creator of the series, could've come up with something more original. Am I making this into a bigger thing than it actually is? Most likely. But is it wrong to want something crazy and inventive like Veronica's dad Keith Mars (Enrico Colantoni) being accused of murder instead? Not at all! Don't get me wrong, it felt somewhat nostalgic to have Veronica run back to Logan after 9 years of not speaking to him but at the same time, it felt completely unnatural and frankly, stupid. Most of us fans have grown up in 10 years and the simple teenage years are gone, same goes for the characters, wouldn't it be logical to add a bit more sophistication to the movie as well?
Part of me thinks that this fact was probably the thing that altered my presentation of the movie from simply viewing it for my own pleasure to viewing it as a proper movie. I was expecting much more and Veronica Mars just wasn't going to deliver it because it wasn't the aim of the movie. The fans of the series will love the movie, they probably love it already considering the IMDb score of the movie and it's all good! My own personal struggle with this fact is that I consider myself a fan, I consider Veronica Mars to be kickass and cool, and I'm swooning over Logan Echolls even after all these years, so I don't understand why didn't I saw the joy of Veronica Mars that I was so used to seeing on my television so many years ago. Clearly I don't have an answer at the moment and I think I never will get to the bottom of this but I do know that I'm a little disappointed at myself for not loving the movie.
Certainly the disappointment of the movie is driven by the fact that these things rarely work out, that's probably the reason Friends will never reunite on the big screen – it is difficult to keep the spirit of the series in a movie format. That became also the downfall of Veronica Mars (2014), the movie felt like a two-part episode that aired back-to-back and there wasn't really a whole lot of crime nor mystery. The power of the first season was Lilly Kane's murder, the whole plot was epic, it had so much heart and spirit and it's what ignited my love for the show. Veronica Mars (2014) focused on Carrie Bishop's (originally portrayed by Leighton Meester) murder, the fact that the role was replaced for the movie was already emotionally disconnecting and Logan never really seemed to care for her at all. So the main premises of the movie was a disappointment from the beginning and it didn't really improve after that.
Another aspect that drove me absolutely crazy was Veronica's relationship with Piz (Chris Lowell) which started in the middle of season 3 and apparently continued into Veronica's present after they split for 8 years and then ended again pretty much in a week. Now, I'm not saying I didn't jump for joy when a certain IT-couple got back together, but as I've developed a deep hate towards romantic comedies, I've also required a need for logic in romance related matters and Veronica and Piz was far from logic. 10 years is a long time, it's long enough for things to change drastically for one person and it felt as if Veronica was stuck in this space where time moved onward and yet she remained still. I respect the fact that Rob Thomas wanted to bring back every single character, but was it difficult to introduce a new love in Veronica's life or at least have her single and ready to mingle? I don't know, I feel as if I could've given Veronica a much better story, a better life during those 10 years and she's not even my creation!
The little joys of Veronica Mars where those characters you saw that made you smile back in the day, Max Greenfield as Leo was definitely one of them! The disappointments were seeing some characters just because, like Celeste Kane (Lisa Thornhill) shooting Weevil (Francis Capra) in the most ridiculous story line of the movie to be honest! And what made it even worse was the fact that you had the original cast, all willing to come back and somehow Thomas managed to destroy so many characters I used to adore in just an hour and a half. After having said all of these bad things, I must confess the movie had couple of great moments as well. Interesting enough, those moments were by actors, Dax Shepard and James Franco, who had nothing to do with the original series. Both men came in and delivered amazing characters, James Franco who played himself yet again, was making fun of himself, again and I loved it! Dax was there to support his wife and baby mama, Kristen Bell, with a very raunchy dance that was probably funny just because of their real-life relationship.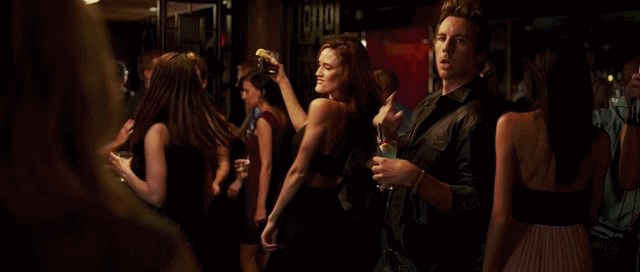 Now, you're probably wondering how can a fan of Veronica Mars say all these bad things and spread such hate about one of her favorite female characters: well, it's because I've grown up since and I expect a lot more nowadays that I did in the past. And like I said, I was wishing for Veronica to have grown up as well because 10 years is a long time and anything could have happened! And the saddest thing isn't that the movie was bad, it's the fact that I can think of so many ways how it could have been better because that means Veronica Mars (2014) could have potentially been the crime-mystery movie of the year for me. But at the end of the day, it was what it was and though I didn't love the movie, this week has shown me that I still love the series and I do appreciate the fact how Veronica Mars (2014) got made… as a big milestone for the movie industry! So whether you loved the movie or deeply disliked it like me, don't hate Veronica Mars, because she's a marshmallow!
0