You know that feeling when something's so perfect that you just hate it. Yeah, there's a word for love and frustration all rolled in one – it's "ugh". And you know what usually makes me grind out that word, beards. Really good beards. Because no matter how closely I look, or how many times I inch towards that screen, that beard is not as close to me as it should. And yes, this is a lust post – enjoy!

Disclaimer: this is a very selfish post.
Honorable mentions: all good beards not listed in this list & all those beards that never make it onto the big/small screens.
Yes, this is a light beard, just a good amount of stubble! The Resident is not a show I watch anymore but when I did, Matt Czuchry's stubble kept me going. I remember when shows/movies didn't have that much beard going on, so I appreciate every kind of beard we get these days. And there sure are a lot to drool over. It also helps that Czuchry has nice eyes to go along with his stubble by the way.
What's a beard list without some drunk beard. I mean, sure, it's not as good but still, look at it. There's a reason everyone, despite how lousy Bradley Cooper's character was, seemed to fantasise about him. And hun, I can understand why. Look at that scruff, it's magnificent.
I mean, would you look at that? That is a well maintained beard with just the right amount of accessories. Yes, Jason Momoa is a beard guy and he has had some amazing beards besides Game of Thrones. But as GOT isn't getting love anymore (as much), I thought I'd give this beard a little shoutout. It's also evident that after hot GOT beards (Khal Drogo, Robb Stark) left, the show started to crumble. I mean, I'm not saying there's a correlation there but I mean, I'm also not saying there isn't.
Here's a bit of stubble again, in crazy form. I couldn't think of a time I didn't lust after Tom Hardy's beard. He has had some great beard moments. But I went with one where he had some fun. Venom is an underrated movie for sure, it sure as hell isn't as bad as you would think at first. Partly because Hardy just goes all out and doesn't hold back. So for that, this beard gets a mention.
Can I get a whoop for Thor and his one eye moments? I'm a bit sad they took it away so fast though. Anyway, I'm pretty sure this happens in Thor: Ragnarok but correct me if I'm wrong. The beard is there though, that I know and that I love. Chris Hemsworth would definitely be a contender for my favourite Avenger spot if it weren't for my Captain oh Captain with that beard of his. Because, I must admit, that beard seems pretty darn delicious.
Brooding beards are cool too and of course I was going to include my boy Sam Rockwell here. He has done mostly non-beard roles but man, A Single Shot as a movie was so much better with his beard. The movie wasn't all that great but I mean, look at that brooding man, drinking his morning coffee while sporting that cool ass beard. I love him.
Yes, we hate this movie and yes, there's not enough Jon in it BUT MAN, that nicely trimmed beard – yaaaas, girl. I mean, the neck tattoos help too. In case you didn't know, I'm a huge fan of tattoos, so it's always nice to see a tattoo/beard combo. Bernthal has had other good beards but I picked this one because it's so defined. There are a lot of scruffy ones in this list so some structure would be good, right?
Can we get a "hell yes" for our boy Milo here? So he sports all kinds of facial hair in NBC's This Is Us. He has a moustache, he has a lighter stubble, he is also clean shaven in some scenes. I like it all but his dad beard, my god. Look at him, how can you not appreciate that man's face. By the way, I had stopped watching This Is Us for a very long time because I couldn't watch his death scene. Now I'm binging it again, on season 3 right now, and just.. I don't think for me there has been a dry eyed This Is Us episode yet. I'm so sensitive these days and this is just waterworks central, I also tear up when I see Milo's dad beard, it's so pretty.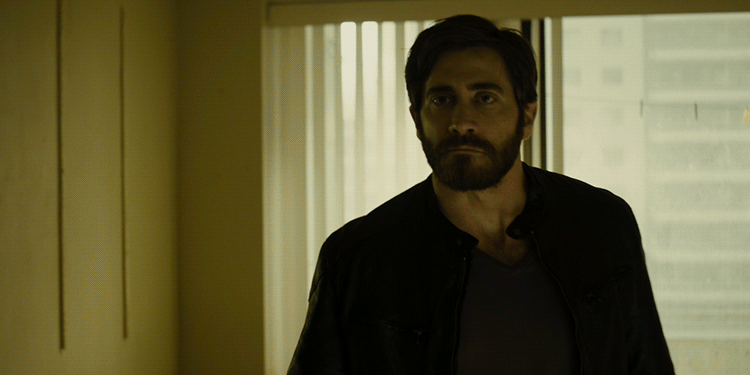 See, it's one beard but actually sort of two beards – Jake Gyllenhaal double beard moment in Enemy is just ovaries overkill. Jake's so good in serious movies these days, I mean, how could you not with a serious beard like that. There's just enough structure but also a bit of scruff going on. You know it would be an awesome beard to wake up next to, I just know it. If I think about it, Jake's been an advocate for beards for a few years now. Like, I rarely see him without and good for him, because he looks so tasty with a beard.
I could have tried to not put two Chris Evans beards in the first place but hey, why would I want to choose? Both these are good, both these are solid beards (don't worry, Caps beard is mentioned in another post). I'm still watching Defending Jacob (since it hasn't ended yet) but I've already drooled so much over that beard. Snowpiercer is also excellent, such a great visual choice too. Like, Evans is okay without the beard, I'd still take him home but with it, he is an actual THIRST TRAP and momma's thirsty.
---
10 For 10 is Mettel Ray's 10th Blogiversary celebration series where I posted 10 random Top 10 lists during 10 days from May 1st to May 10th.
2