I'm starting this week off by bringing you ten book to movie adaptations that I thought worked wonderfully. All these books are okay, some are actually very good, but others simply aren't as strong. The point of the Top 10 list is that the movies were better than books. Yes, I love some adaptations a bit more than the books and that is rare. By the way, I've been reading less books lately, so if you have any recommendations to me (to get out of the reading slump) feel free to leave those in the comments!
Disclaimer: if it wasn't already clear, this list includes only those book to movie adaptations were I've read the book and seen the movie. It's not that the book is bad, it's that the movies shone a bit more!
Honorable mentions: The Maze Runner
To be completely honest, I wasn't a huge fan of the book. Dumplin' for me was trying too hard as a story to just feel comforting. After finishing the book I thought maybe it was because of the plot itself, and the soft spot it hit for me personally. I put off the movie for a while because of not liking the story nor connecting to the characters. But then I watched the movie and I loved it! It was so fun, heartwarming and seeing Jennifer Aniston in a role like that worked so well. I think it's also one of the stronger Netflix YA movies that's out there.
Love, Simon is based on a book called Simon vs the Homo Sapiens Agenda and it is a great adaptation. Wasn't a huge fan of the book, watched the movie, loved it, reread the book and finally loved the book too. Love, Simon as a movie really added additional layers to the story and casting Nick Robinson was a great choice. It's truly one of the best YA LGBTQ+ movies that's come along. It helps it has a happy ending.
Ah, the Jennifer Lawrence era… Remember that, those moments before she become annoying? I loved those years. Actually, I still love The Hunger Games and Catching Fire both but in terms of appeal, I prefer the sequel. Yes, it had more money, it was stripped away from its indie roots but honestly, I loved the second novel more as well. So I guess it's about the source material after all. Catching Fire had a huge problem of having a lot going on but I think the movie managed to balance everything very well. Plus, those burning outfits, that was such a badass moment! I love it!
Hate it or love it, Call Me By Your Name is among the good book adaptations! I read the book, I can vouch for it. In others words, I loved the movie, I also have a soft spot for Timothée Chalamet and wasn't put off by peaches. For me the movie works on an adaptation level well because the book dragged so much. It was a beautiful story, a little strange at times but for the love of god, the style of writing didn't appeal to me at all. So it took me ages to get through it. The movie never felt like that.
Speaking of books that dragged, The Perks of Being a Wallflower is far from those! I remember reading this book in one sitting. That's how much I loved this. The movie, written and directed by the book author, works even better. It is very well cast, has a lot of great visual moments and it's simply beautiful. There are a lot of small little things that make this movie great but I think its biggest strength is having the author be the person that got to bring his book onto the screen. It wouldn't work always but it worked here!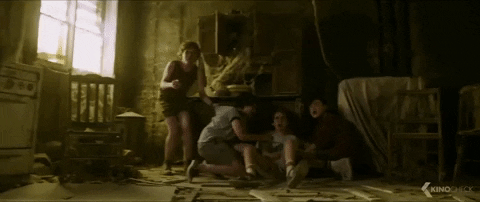 Horror! I told you it wasn't going to be completely YA… yes, there are kids here but it's definitely an adult novel. If the sheer size of it (1300+ pages) isn't an indication its the writing style that would scare away any teen. It took me three months to get through the book, the movie was definitely better. The kid version is a lot more enjoyable than the sequel, it reflects the book too – the adult chapters were dragging the most. Otherwise, this is a very great adaptation on many levels! I mean, the movie skipped the whole sex scene in the caves. Yeah, that's right, the book had a SEX SCENE IN THE CAVES! Wtf.
This book was so great! I picked it up and I enjoyed it from page 1 to the final page. When I heard that they were going to adapt it into a movie, I was a bit worried but not much. There was a lot of science in the book which they cut down a lot for the movie, and I appreciated that. As far as sci-fi movies go, The Martian got a lot of things right! It also was a lot easier to follow and the performances really helped to bring even more charisma to the characters.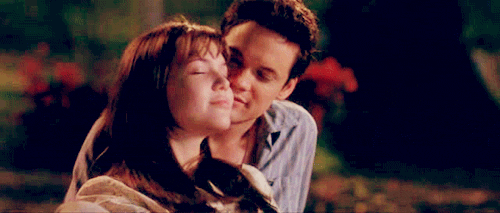 I know some of you don't like this but trust me, as far as book adaptations go, A Walk to Remember did it all so right. The book was in a different genre almost, and I know the movie might feel a little too cheesy for others but I love it. The movie is based on a Nicholas Sparks novel and Mandy Moore plays a character that's inspired by his sister. So that sort of makes the movie even more emotional for me.
I'm not a huge fan of thrillers when it comes to books. No idea why but I do try to read a few here and there. So when I heard David Fincher was making Gone Girl, I thought, that's a thriller I'm going to read. Now, the reason it makes this list, is the fact that I didn't love the book, but I freaking LOVE the movie! In my opinion, the adaptation works because Gyllian Flynn adapted her own book into a screenplay, and made it better. Then add Fincher in the mix and you got yourself a visual orgasm right there. Oh, and Rosamund Pike, standing ovation worthy performance! By the way, the reason I picked Gone Girl over Fincher's The Girl With a Dragon Tattoo, is because I can't really remember the book anymore. But Fincher does adaptations very well, I think.
Did you really think I was going to mention Harry Potter? These books are treasured, so is the entire movie franchise which did a wonderful job. Plus, it gave us, the book lovers, so many great moments. But my favourite is, and always will be, the third movie, an adaptation I love the most. Directed by Alfonso Cuarón, Prisoner of Azkaban introduced a darker tone to the movie franchise. It introduced dementors, it played around with time, it was over 2 hours and it has never felt too long. I think in terms of book adaptations, Prisoner of Azkaban really shone brighter than the book. It also paved a way for a more serious franchise and Cuarón was the perfect guy to take Potter from a kid to a teen.
---
10 For 10 is Mettel Ray's 10th Blogiversary celebration series where I post 10 random Top 10 lists during 10 days from May 1st to May 10th.
2