With themes like treasure hunt it's hard to approach it differently. I'm guessing I'll have a lot of matches this week because honestly I couldn't think of a way to think outside the box for this. Even finding a theme within a theme seemed too much for me this week. That being said, I gave it a go and here's what I ended up with.
To this day it's probably my favourite treasure hunt movies. It's just so good in its own little way. Sure you can nitpick at it but back in the day (ALMOST 20 YEARS AGO) it was one hell of an adventure movie. And it still holds up! Nicolas Cage was in his prime, the humour was good and Sean Bean delivered a villain better than any food delivery service can deliver food. Anyway. National Treasure is a treasure on its own!
It's fun and that's basically all you need. We have a very stereotypical plot with token characters but I ain't complaining. There is good humour and I mean if you don't go in taking it too seriously you'll enjoy it. It's also good as a rewatch because it's a bit forgettable I guess. Not as a bad thing but like it's very generic in its form which makes it easy to forget.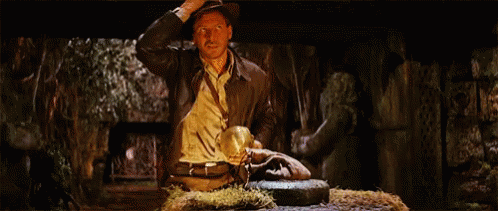 How could I not mention Indiana Jones? He is the true treasure hunter of our time. I love this one and there's not much to add. Probably the best of the bunch and both the previous mentions saw this as inspiration. Also did you notice that all my three picks have one common colour scheme. All movies have an orange gif, two have an abundance of sand and well one does end up in a sandy cave like thing. Does that count as a theme within a theme? Oh and all three sorta have one white male lead with a sidekick and a female to complete the trio.
---
THIS SERIES IS CREATED BY WANDERING THROUGH THE SHELVES
3