Bringing you some globetrotting television shows this week. The idea is that the show is scripted, so non-reality, non-travel and non-docu series. Limiting it to scripted did out a wall up for me but I think we got there in the end. Also, how is it at the end of May already? Gosh. It feels like just yesterday it was April and now we're almost in June. I wanna say time flies but at the same time I have done nothing so… it feels more like it's passing by and I'm just unaware of it. Anyway, on to my globetrotting picks.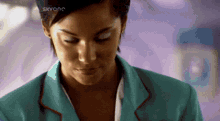 I have vague memories of this show but somehow they are all positive. Like I remember that I liked this show. Granted, I was most likely too young to watch a show hinting at the mile high club. But I guess my parents never really cared that much. Mile High essentially is a British show about people working as cabin crew and globetrotting. Out of all three I picked I think this one had the most globetrotting in it. I remember thinking what a fun job. You get to work but you also get to visit all these cool places. Most memorable for me is Adam Sinclair as Will. Cannot remember any of the story lines but I just remember really liking his character.
Now this show is quite similar in a way that I hardly remember it. It ran for one season and shows that are not renewed usually do fade away in time. Pan Am is a period drama about the pilots and flight attendants who once made Pan Am the most glamorous way to fly. Similar to High Mile it has some drama and relationship stuff. Christina Ricci is the lead in this one season show and Margot Robbie is here too! For me though, Michael Mosley is the most memorable because I follow his career quite thoroughly these days. Anyway… an okay watch I guess.
Okay it's a bit of a stretch and also I think I've mentioned it before but there's not a lot of shows about flight attendants! Anyway, this one belongs to HBO and is probably the best out of the bunch. It also has some crime and crazy editing going on. Plus Michiel Huisman is so hot! My god. Anyway, while there's not a lot of globetrotting in here our main character still works as a flight attendant so it counts!
---
THIS SERIES IS CREATED BY WANDERING THROUGH THE SHELVES
1