Another month, another deadly sin to be devoured. This month we have something very close to last month's gluttony – it's greed. I used money as theme last month for "overeating" because I had a different plan here. It's still going to be about money and it's going to be about greed but with a twist. As always, I have a theme within a theme for this one here and honestly, I'm quite proud of this one. PS: hope everyone is doing okay and staying safe!
Now, you're probably thinking, what the hell am I picking here and how is The Bachelor anything to do with greed? Well, this movie's plot revolves around an inheritance that the main character has to get… but it has strings attached. So the greed part here is the need for the inheritance/money and the willingness to do almost anything for it. This is not a good movie, it's a bit silly and a bit entertaining but honestly, I picked it because I needed a third pick. Also, it does have an iconic scene where like a thousand women in wedding dresses are running after a man (because they are greedy)!! Oh by the way, anyone remember Chris O'Donnell and his 90's movie career?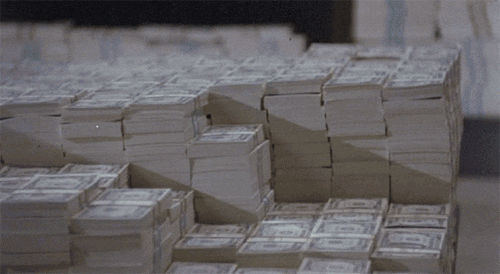 We're kicking it back all the way to the 80s with this one, which is a rare thing for me! Brewster's Millions is a comedy about a man who needs to spend 30 million dollars in 30 days in order to inherit 300 million. It's nuts, it's also kind of humbling. This is the SEVENTH adaptation from the novel by the same name and the last English version (the 8th is an Indian adaptation). Can you imagine this plot being redone for SEVEN times in basically 70 years.  Anyway, Richard Pryor and John Candy take the lead here and that's like comedy gold. It might not hold up well but it's still a lot of fun.
This is the movie I came up first for this week. I mean the name even says it. Basically this is about a rich guy played by Kirk Douglas, his inheritance and his crazy family who all want a piece of it. It's a fun movie and I only have fond memories of it, just as I do about any Michael J. Fox movies. Basically, if I could have, I would have just mentioned this. Anyway, as you can tell, the common theme this week was inheritance and people going nuts for it. Greedy is a fine example. It also has a twist which I love. So in case you still for some reason haven't seen this one, I recommend it.
---
THIS AMAZING SERIES IS CREATED BY WANDERING THROUGH THE SHELVES
2