We are on the fourth sin this year and I'm in the middle of my 10 For 10 marathon! Yes, today's Thursday Movie Picks is going up extra early because ya girl is posting again later tonight. Today marks already the 7th post so it shall be all over on Sunday and we can go back to regular schedule. Enough of that, today we are talking about envy. And guys, I have the perfect envy recommendations and as always, a theme within a theme!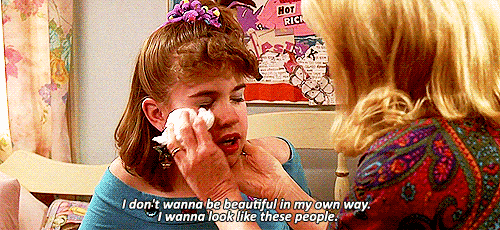 This is a movie about a teen girl envying the grown ups, wanting to be somebody she is not. All she wants to be is an adult because well, being an adult is better. At its core, it's another wish movie but it has so much heart. It's one of those movies that doesn't get enough credit. Yes it's cheesy, yes it's silly but it has younger Mark Ruffalo being all adorable and it makes it all worth it. Also, it also proves that it's pointless to envy the adults as a kid, since being a kid is a lot more fun… and your parents still pay the bills for you.
The evil step-sisters! That's the whole point here I guess. Cinderella is a well known fairy tale and it is basically about an evil step-mother and her two teen daughters who envy Cinderella. Or in this case, Sam. This movie isn't good, it's not the worst either tho because there's the iconic quote (the one in the gif) that encapsulates envy perfectly. There's always a hint of respect but it's buried under jealousy.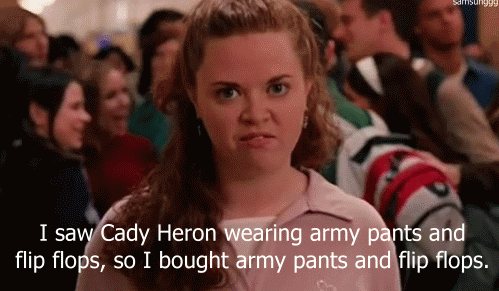 Finally, it's the essential teen movie of the 00's – Mean Girls. A movie about a group of girls everyone envies, the ones who have it all, the Plastics. In some ways the envy here is everywhere around the trio but I think essentially it's about Cady wanting Regina's ex boyfriend. I guess I'm stretching the theme here a little but hey, I would bet my money on it, that in high school, you envied somebody and what they represented. It's perfectly underlined here. Plus, Amy Poehler's character for sure envies her daughter. Oh and the theme within a theme, well all these movies are technically teen movies, and all came out in 2004.
---
THIS AMAZING SERIES IS CREATED BY WANDERING THROUGH THE SHELVES
3