With September nearing, school is on many of our minds. For me it's not necessarily about starting school or having somebody to send to school but mostly the idea of starting fresh. I feel like the energy from summer just gives fall a nice push. Anyway for today's theme I went with movies that revolve around school. As always I added my own little theme within a theme.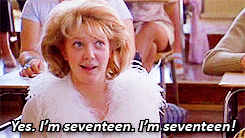 This is such a strange concept for a movie and I think it wouldn't fly well nowadays. But Drew Barrymore is charming here and for some reason it just works. I have only fond memories of this movie and I think once this post goes up, I'll be revisiting it too. Ah, the plot is that a reporter goes back to high school. She is there undercover to research for a story. As the title says, she's never been kissed and there is a very handsome teacher involved… who thinks she is underage. Talk about strange but also awwww so adorable concept for a movie.
Even if I've recommended this before I'm shamelessly doing it again. She's The Man is my guilty pleasure favourite teen movie. I had this on repeat while I was working at the blockbuster (yes, I was one of the last people to work there too since I quit to go to university just a few months before it closed down). I can quote She's The Man with my roommate and even though we do it ironically, it's still a movie with great memories. It has Amanda Bynes going disguised aka undercover to a new high school as a boy to play football. She as Sebastian has a roommate who happens to be played by Channing Tatum. By the way, Tatum shows off his comedic side here and it's pretty awesome.
We're back with another Channing Tatum movie and this time he is letting his comedic side shine even brighter. The successful remake of 21 Jump Street has Tatum and Jonah Hill, a pair of not so good cops, going undercover to high school. It's hilarious, the best of the bunch here today and the sequel is pretty good too. It is one of the few comedies I have fond memories looking back and I wouldn't mind watching it again soon.
---
THIS AMAZING SERIES IS CREATED BY WANDERING THROUGH THE SHELVES
3