It feels like the only way I can tell the difference between weeks is thanks to Thursday Movie Picks. Days fall into one and the stress of the entire year and a month on top is truly getting to me now. Work is not easy at the moment either which is just an added stress on top. BUT that is not what we are talking about today, we are talking about psychological Thrillers! I for one am not the biggest fan of these movies but when one clicks I love it a lot. Psychological thriller isn't just something I look out for on purpose though. Anyway, I thought of this theme and I figured I'd pick three movies without even looking at Google for help. So if they don't really fit the theme… blame the stress. I'm sure it's at fault somehow.
This is one of those thriller movies for me where I vaguely remember what was happening. Not sure if I wasn't paying attention or the movie bored me but there's not much I remember. It could be the Hugh Jackman and Jake Gyllenhaal combo that distracted me though… I guess we'll never know.
Anyway, Hugh's character is looking for his daughter and her friend. It's quite well received so it's good. But again, I can't remember much. I just desperately wanted a theme within a theme and felt like I've praised Enemy way too much already. Do you see where this week's theme is going?
Well it was obvious. Have I done Jake Gyllenhaal as a theme within a theme yet? If I have and I apologise. It was just the first beard guy I could remember. Also Jake has a lot of thrillers in his filmography in my opinion. He has a knack for these dark, psychological thrillers that mess with your mind.
Here he shares the screen with this year's Oscar nominated Riz Ahmed.Truly an amazing combo. If you haven't seen it, give it a try. I myself am certain that after starting a job in the media field, this movie will hit different. Also with the current times… this will hit differently… psychologically.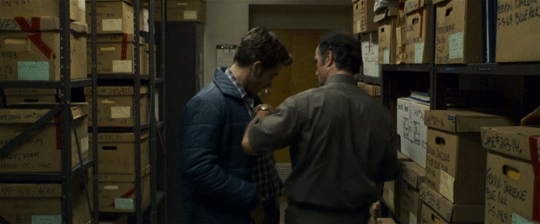 Last but not least my favourite psychological thriller. Is it really? Probably. If that ending does not mentally fuck you up I don't know what does. As many of you probably already know Zodiac is based on true events. It deals with the Zodiac killer who was never caught and who sent cyphers to the papers. Most cyphers haven't been solved.
They just recently (I say recently but since the past year has been a huge blob it could be 2020 May or 2021 January at this point) solved a cypher. Which is pretty exciting. Also I love this David Fincher so much. I love the dark vibes, the lingering shots, it's just amazing. I miss this Fincher. Also I just realised that I think for me psychological thrillers all have a very similar visual style too. I like that a lot.
---
THIS SERIES IS CREATED BY WANDERING THROUGH THE SHELVES
2