The titles for these Thursday Movie Picks seem to get longer and longer but I'm not really complaining. It's just a little ironic. Ironic because yet again I'm only going to talk about two performances. One for Best Supporting Actor and one for Best Supporting Actress. Both these wins are pretty recent so I can easily talk about them. As per usual I left my post writing to the very last minute (add some work scheduling mishap on top of that) and it's an hour until deadline. I guess I just like to live on the edge.
You really thought I'd mention anyone else here? After this? And THIS? AND THIS?? There was no way. Sam Rockwell is forever going to be one of my favourite actors and his Oscar win is iconic to me. He has some bad movies and he doesn't always go for the heavy roles but oh boy, the range this man has. Sam can be funny, he can be scary and he can be a total asshole. Yet he always has that charm that's unmistakably Sam Rockwell.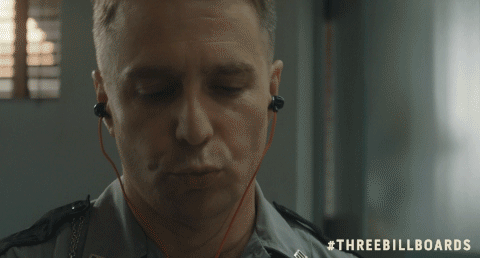 His role in Three Billboards Outside Ebbing, Missouri was definitely polarising. Sam wasn't playing a nice guy but honestly, it was impossible not to root for him by the end. And I think only Sam fucking Rockwell could have pulled off the complexities of Dixon so well. His Oscar was well deserved and much overdo! But I'm grateful that it wasn't a career Oscar, it felt more true to his craft that some other wins we've seen in the past years. This was truly a well deserved win! And now, bring on some more because Sam for sure deserves a few more.
Alright, it's not that recent but I was going through the list and this one sparkled. When I did the Best Actor/Actress post I mentioned that Halle Berry is the only Black woman to win Best Actress… ever. Thankfully Best Supporting Actress is a different matter and there have been many winners these past year, Regina King, Viola Davis, Lupita Nyong'o, Octavia Spencer and Mo'Nique all won since 2010. So half!
The reason I chose Jennifer Hudson though is because it's one of the few I've seen so far and one that blew me away. As somebody who is not a huge musical fan (with a few exceptions here and there) Dreamgirls truly worked for me! It was probably the superb quality of singing by the two powerhouses Beyoncé and Jennifer Hudson. But the reason Hudson stands out even more is that this was her debut! And to win for her first role, I can just imagine the joy and pride in this moment. Anyway I just wanted to highlight this and if you still need some extra proof for this pick, listen and watch this.
---
THIS SERIES IS CREATED BY WANDERING THROUGH THE SHELVES
3