Every year the Non-English theme comes along and I get a little flustered. It's not that I haven't seen any but I just can't theme-within-a-theme them. But today, I can! I wanted to include three that had the same fate but alas, I didn't have time to watch the movie I thought of. Busy-busy-busy but that's okay, this list of Non-English language movies is still pretty darn good in my opinion and I loved all three of these for different reasons.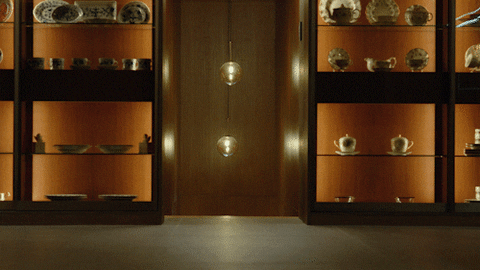 I'll get this one out of the way because I'm assuming everyone who wanted to see this, saw it. Parasite is a movie by Bong Joon Ho and this won not just Best International Feature Film but also Best Picture Academy Award for this movie (plus some others). My only gripe with this one is the fact that it won in the non-English category. Not because it didn't deserve it but a movie with so much money to advertise itself taking a possible win/place from the Foreign Film category seems a little bit unfair. And yes, there is a slight national pride issue going on as you will soon find out but also the fact that I love an underdog. Parasite was no underdog in that specific genre. But still, it is a great movie and I love its visuals and multi-genre attitude.
As you can see, the theme within a theme here is Best International Feature Film category submissions. So the only one of the three that also got the nomination (and won) was Parasite. And this one here made it to the December shortlist of 10 films. Truth and Justice as some might already know is an Estonian film. I'm Estonian…. so this one not getting past the shortlist hurt. And now you can probably tell where my frustration stems. We are not a big country and we sure as hell aren't a rich one. So for us it was about money and not being able to promote the movie as much as we would have liked.  I'm pretty sure it still doesn't have any big contributors so I'm not sure you can watch it. You can read my long review HERE though.
Even though it didn't get an Oscar nomination it did win big at our annual national Movie and TV Awards. At least it's award winning in some ways. By the way, the gifs I've chosen are the two main characters, neighbours. There's a huge feud between them and the entire movie (and the novel it's based on) plays around with the idea of good and bad. It's rare that I like Estonian movies so me liking this is .. at least for me, a huge deal.
Even sadder than my own personal pride being hurt is the Georgian movie And Then We Danced because – oh boy. Technically this was submitted by Sweden (obviously Non-English) but the movie itself is 100% Georgian. It didn't even get shortlisted. This is a dance movie where our main character is gay and he is struggling to present masculine according to these dance teachers. They keep telling him he is too soft for this specific male Georgian dance. But this movie, you guys. The film was met with protests that turned violent when it was first screened in Georgia due to the country's hardline stance against LGBTQIA+ policies. The film's Georgian dance choreographer choose to remain anonymous, therefore he/she wasn't even credited. Having received death threats, the crew had bodyguards on set!
Oh but there is more. Ministry of Culture and Monument Protection of Georgia, declined to fund the trip for the filming crew to visit the Cannes Film Festival (where the movie was initially set to premiere). They've explicitly specified that it was solely due to the fact, that And Then We Danced was depicting homosexual romance. Because of this, very few people that were associated with the production (basically only the main cast and crew), went to visit the Cannes, on their own personal funding. Even though all of this happened, despite the hate, the film sold out its three days of screenings in the capital of Georgia in just 15 minutes!
*
And the movie is beautiful! It has so much heart, talent and just..  I loved it. I saw this in the theatre alone and I had a great time. And the main actor isn't even an actor, the director found him from Instagram. Anyway, if you have a chance, watch And Then We Danced because this movie really went through so much just to exist. This is the longest I've rambled about a movie in Thursday Movie Picks, I'm sorry. Highly recommend this!
---
THIS SERIES IS CREATED BY WANDERING THROUGH THE SHELVES
2