I'm on time! Last week was really hectic for me so I ended up posting my Thursday post on a Saturday instead. Whoops. You can find it here, I thought I was being really clever with that theme and it seems nobody has read it. That's what I get on being so late. Anyway this week it's about natural disasters but I went with the sci-fi theme here so I guess it's more of an Earth disaster list instead. I hope you enjoy.
This is a really strange Chinese movie that is available on Netflix I believe. I watched it on a plane ride from US to Estonia a few years back. It is basically about moving Earth out of its orbit to do a disaster approaching. It's not as good but it's so crazy that you just have to see it. Part of it is still a bit unclear to me but just the idea of moving Earth is so insane that I had to include it in my list.
This movie needs no introduction, it's about a meteor shower that is threatening the Earth. A crew is set out to destroy the asteroid and well everything else follows. It's a little emotional and there's some romance involved. So basically your typical blockbuster about saving the Earth.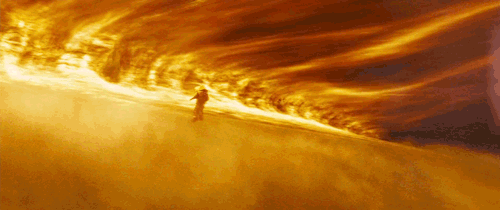 Leaving the best to last Sunshine is about reigniting the Sun because it's basically dying. Again something that is about saving the Earth again. Sunshine itself is a movie that I always know of but never really talk about. It's a kind of movie that I feel like goes unnoticed though there's essentially nothing super wrong about it. Gorgeous visuals too.
---
THIS SERIES IS CREATED BY WANDERING THROUGH THE SHELVES
2