While this theme seems like a great way to ask my grandparents what they watch I feel like it's also a strange way to say some movies are just for seniors. Granted there are some movies that fit into this theme but also I feel like my grandmother watches different things. She saw Wonder Woman and loved it so you'll never know with seniors these days. Anyway I did go with something that I thought was like a fitting theme within a theme for this week. And since I've seen all three does that mean… I'm old!?
This movie is widely hated and I don't understand why. It's cute, it's a bit annoying but in a cute way. This has Diane Keaton in it and all three of my picks will have her in common. She is over 70 so her movies in my eyes fit into the demography of seniors. Plus all these three movies have something to do with romance and finding romance in an older age. Which I think is a nice concept and we should have more movies like this. Love can find us at any age and a lot of Keaton's movies prove that. Because I Said So does focus more on Mandy Moore's character but Keaton does get a solid side story.
Being completely honest, this one is a bit of a hit or miss but there are charming moments and a killer cast. Book Club is about these older ladies coming together and reading 50 Shades of Grey. They enjoy it very much! I don't remember much about it but I do remember there's love stories going all around. Keaton's character meets Andy Garcia's character, the younger hot dude (I can't believe Garcia is 10 years younger than Keaton, they both look great) and it's just cute. I would think my grandmother will like it. Some jokes might miss her but that's just cultural differences.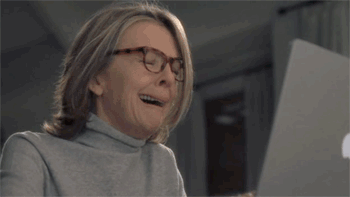 I left what I think is the best to last. Nancy Meyers was a few years ago my favourite female director. I just loved her romance movies and she always made these great movies for women. But with the trend of romance movies being on an all time low and Netflix making awful ones Meyers hasn't been around much. Something's Gotta Give does go down as one of her better ones though nothing comes close to The Holiday. Anyway, Keaton is here and trying to write while her daughter's boyfriend (who is her age by the way) is in the same beach house. Jack Nicholson plays the playboy old guy and it's just fun. I feel like these picks all have that in common because I don't want my grandmother watching serious/sad/depressing things. She deserves movies that are fun and just entertaining!
---
THIS SERIES IS CREATED BY WANDERING THROUGH THE SHELVES
2