Ho-ho-ho, Merry Christmas! This feels like the most un-holiday-festive year since I can remember but let's try to get past that. So grab your ginger bread cookies and a cup of hot chocolate and let's bring some action into the holidays! Since 2020 went rogue on us this year I decided to go very rogue with this week's theme. Let's have a bit of fun, eh!? I mean who wants to see Die Hard mentioned in every list, right? So sit back and see what I came up with.
The word action… it's a funny one because I know in this week's theme it means genre but for me, action can mean something else too. Like in the phrase "get some action" it means getting some sexy time going on. Maybe I watched too many romantic Christmas movies this month…. but that's where we're going this week with this theme – straight into bed! Or at least in my dreams because that's where all the action I'll be getting is. Steamy holidays, hormones flying, hot dreams… you get it. Okay, I'll stop explaining now.
First up we have Timothy Olyphant in Go. I mean, what is sexier than Timothy Olyphant!? Well some things are equally hot but still, Tim is hot! I hardly remember anything about Go except that the movie takes place around Christmas and Timothy wears a Santa hat. I guess it falls a bit under action as well since it's a crime movie and there's some drug stuff involved. Still, the only action I got from this was that dream I had of Timothy just wearing a Santa hat (am I making these holidays too ho-ho-horny? Apologies, you can stop reading if you want, it won't get better).
2. AMERICAN PSYCHO (2000)
Okay this one is a bit of a stretch but it took me ages to find this match for this week. Bale isn't my go to hot dude but he has his moments. There is also the fact that I find serial killer fascinating so action in this context could be research. I don't know man… this movie does have some killing action as well so I mean it works. Besides, I had to give you a break after Timothy and before the next pick because it would have been too much. But like I said, the honest answer is I couldn't find any more hot Santa hat scenes. A disgrace!!! Somebody fix this immediately.
1. JARHEAD (2005)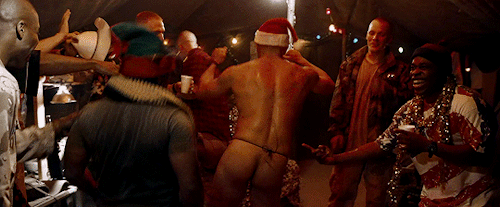 Last but not least, Jake Gyllenhaal you all! It's not about the movies this week, it was never about the movies this week. It was all about Santa hats and hot dudes. Here you get served some butt too, you're welcome! And he has two hats (you'll see) so it counts for two picks, yes? I feel like by accident I've also sort of fit into the actual action theme. Even though the action I meant was sexy dreams and getting some research started apparently but there's a lot of war action in Jarhead. The movie basically has this huge Christmas party where the action of that gif above happens. And you know what, since it's Christmas, here's another precious gif from the same scene. Merry Christmas!!
---
THIS SERIES IS CREATED BY WANDERING THROUGH THE SHELVES
4