This week's theme of cinematography is the kind that could go either way. I could go with any beautiful looking movie or any stunning scene that I remember for its cinematography. Do I have solid favourites? Probably not. I feel like there are too many to choose from. So I did what I do best. I went with a theme within a theme and that helped me narrow things down.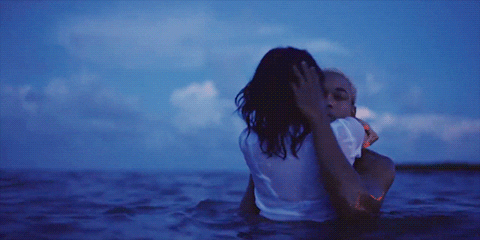 For what is worth, even if I've mentioned it before, Waves deserves more attention. It is a beautiful indie movie that surprises you along the way. Go in blind, go in with no expectations and you might walk out with it being one of your favourites. While the movie has many great and beautiful scenes, there's something about the entirely blue scene in the ocean. Water itself is meaningful, so as you will soon see, I've chose all scenes that have something to do with water. It's the pureness of it all. Feeling weightless despite the heaviness of the world. Accompanied with stunning cinematography by Drew Daniels this scene in Waves is forever embedded into my brain.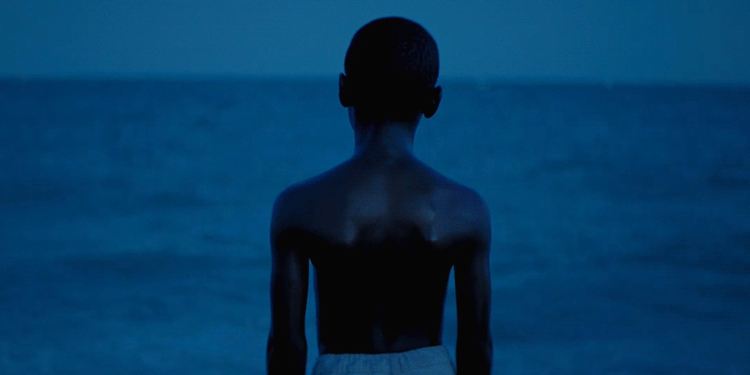 After having heard where my theme is taking me today I think Moonlight came to many of your minds. It's as blue and as meaningful. There is this big intangible part of the world that you cannot reach. Yet it helps you escape, it is unknown and yet it is freedom. There's something about this shot that has stayed with me. James Laxton wasn't nominated for Best Cinematography but I don't think it matters. For me favourite visual moments are those that I remember. While there are million of gorgeous shots, award worthy moments, it's the blue tinted ocean scenes that seem to stay with me.
This is probably the most painful movie in the list. I saw it once, never truly finished it and can't see myself putting myself through it again. It's not that it is bad, it's that it is just too darn sad. Which is even sadder because its jam-packed with great performances. And the cinematography by Seamus McGravey is just beautiful! It's beautiful but oh so tragic. And again we have the motive of the sea/ocean (don't ask me which) that symbolises hope. The hopefulness in the scene above is completely destroyed but the movie circles back in the end. Giving them a happy ending by the sea. Which… is so sad that I'm glad I made this post so watery – you won't be able to see my tears.
---
THIS SERIES IS CREATED BY WANDERING THROUGH THE SHELVES
3