How is it September already? 2020 feels like a constant blow to the head and it has sucked all the energy out of me so the concept of time has escaped me. That being said, let's talk about domestic thrillers. First thing that comes to mind with this theme is home type setting. If this is not it, sorry, I can't really pinpoint the actual theme that well then. So as you can tell I'm confused. And not really sure if I'm hitting the nail in the head with these picks but let's hope I got the thriller part right.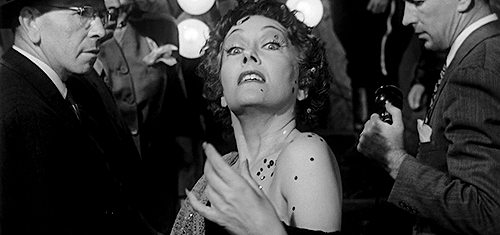 Does noir count as thriller? I think it does, especially considering that the theme within the theme I'm trying to achieve here is classic Hollywood. Where else could I mention Sunset Boulevard? Other than the Across the Universe Podcast episode I watched it for. Anyway, this revolves around a big mansion and there's a suspicious death. It also has a pretty colourful and a bit crazy older lady. All good things for a domestic thriller, right?!
Going to go with two Hitchcock movies for my two top picks. I'd go with three if I could think of any other domestic type one. And if I'd seen the other ones. I think I have seen only two of his films, I know, a shame. Anyway, I would classify Rear Window as part of the domestic thrillers club because the main character is literally stuck in his apartment. Then he stalks other people which isn't nice but it works for the purpose of the movie. This one surprised me. I probably didn't love it but I did think the idea and the concept worked wonders.
We almost stayed in the 50's this week too but alas, Psycho came out in 1960. This one happens in a hotel but for Norman it's a home. So I felt like this one fits the domestic part really well. The thriller part here is probably super obvious too. This reminds me of the fact that I really want to watch Bates Motel. Last week's theme reminded me of it and now I'm trying to find the time. But of course I don't have any. That being said, Psycho is really good. I think it's probably one of my favourite classics… and that says a lot.
---
THIS AMAZING SERIES IS CREATED BY WANDERING THROUGH THE SHELVES
3