I love bad boys! Fucking love them! If I had to choose between a prince on a white horse and a bad boy, I'd grab my leather jacket on run towards the bad boy. So I'm not going to lie that this week I had a hard time narrowing this damn list down. Which way to go, all the way bad, or a little bad. Hint of bad or a lot of bad while maintaining a level of hotness. Well, I ended up going with characters who are essentially pretty darn bad… and all played by Brad Pitt. You're welcome.
Let's get this awful movie with a good bad boy character out of the way first. Cliff Booth is not a good guy, he is one of the bad boys. He has clearly made a lot of bad decisions in his life and has ended up in a routine. A routine where he takes care of an alcoholic actor. The reason he makes the bad boy list is because of the last scene. Only good thing about the movie. No good guy is able to do so. And nobody except Brad Pitt is able to look so good doing it!
Here we have the perfect bad boy character… Dresses like a bad boy, acts like a bad boy, fights like a bad boy. Also has an evil plan. If anything, this is the kind of bad boy that would really be bad for you. Like, really bad, if he actually existed. Nobody can deny the fact that if you think about a bad boy in Brad Pitt's filmography, you will think of a furry coat wearing Durden. It's just perfect through and through. He is the villain of the movie, in the mind of the hero. I love this twist and I love this movie. Now I also have the need to rewatch it.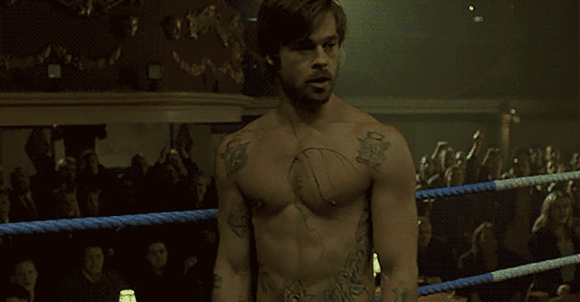 With the third pick I'm going to go with my favourite movie of all time. Have I mentioned it before? Maybe. Even so, I'm going to mention it again! With the help of Mickey O'Neil, the gypsy nobody understands. The bad boy of bad boys! Pitt does a markable job here and portrays a perfect bad boy. He is essentially a villain but with a good heart. I mean, I would also do bad stuff if my mom was killed. Is he a bit of a mess? Yes. But in that fight he is a hot mess.
---
THIS AMAZING SERIES IS CREATED BY WANDERING THROUGH THE SHELVES
2