Here we go again! Third year in a row Mettel Ray devours the Oscars together with The LAMB! This time I'm looking at the Best Makeup and Hairstyling category where I happened to predict 1917's inclusion (being the only one to do so in the Oscar prediction thingie. I did poorly but I got two singular votes for two nominations right so.. personal win there!). Last two years I was certain who was going to win and DID win. This year it's a bit more difficult. So enough randomness, let's dive in, shall we!
(2018 and 2019 The LAMB devours the Oscars entries)
Best Makeup and Hairstyling category at the Oscars is not something that gets a lot of buzz. It's the big acting and directing categories with faces which are hyped and for me it seems that out of technical categories, CGI is getting a lot of hype as well. Digitally de-aging actors and re-creating characters based on older movies played by actors who have passed is pretty impressive so I can't blame them.
But makeup and hairstyling is always going to be relevant as well. Those elements are everywhere around us on a daily basis, I mean my messy ass bun is a timeless accessory. With movies we get to relive makeup styles and hairdos as well as create new exciting things for the fantasy genre. That being said, here are my thoughts on the Best Makeup and Hairstyling nominees of this year's Oscars.
MALEFICENT: MISTRESS OF EVIL (2019)
Not going to lie here, this is the only movie in this list I haven't seen. I didn't care for the first movie that much and I wasn't ever planning to see the sequel. Yet now I'm here to talk about it… Part of the reason I didn't even try to see this was the fact that I'm certain it won't win. The first Maleficent got a Costume Design nomination and didn't win. I'm seeing the same fate unfold here.
The makeup Angelina Jolie wears is quite simple. Just some silicon cheekbones, a headpiece (does that fall under hairstyling?) and some stunning makeup. It's minimal and stunning but it's not WOW – especially since this is a sequel! Based on the stills Elle Fanning had a natural look going on and had long blonde locks. Again, basing this on photos and not the movie itself, I'm seeing beautiful people but I don't think that's enough for a golden man-statue.
JOKER (2019)
At this point, I'm even afraid to think of the word Joker and it's especially difficult to discuss this nomination about the most talked about movie of last year. It was loudly hated and it was loudly loved. I was glad to stay out of it but here we are… discussing the makeup and hairstyling of Joker – the irony.
The signature look of Joker is the strange clown makeup paired with green hair. Keep in mind the makeup and hairstyling was done my two awesome women! and that they had no other creative leverage over the project. So based on this, I think the ladies did a good job. The clown makeup looks strange and off, much like the character himself, and the hair is sloppy looking – again, suited for the character.
Do I think Joker will win this category (the movie has 11 nominations altogether) – I don't think so. Looking back, Heath Ledger's (whom I still miss) Joker had a much more manic look. Putting the two side by side, I'm more thrilled about The Dark Knight – which didn't get a nomination for this category.
JUDY (2019)
Ah, an Oscar-bait biographical movie about a Hollywood star who's light dimmed before her time. Granted, I did watch this movie expecting to be blown away but next to the other musical biopics of recent years, Judy doesn't feel as powerful. I personally don't have a connection to Judy Garland and sadly I didn't manage to form one with this movie. In other words I'm no expert but I do think that it doesn't deserve to win any awards.
Reneé Zellweger's performance was okay, she had a certain physical quality to her that worked well here. There are good makeup and bad makeup moments throughout the movie which work with the plot. There's a tiny nose prosthetic and fake teeth. That's all fine but nothing screams amazing. But the hairstyle? Wigs are fun and cool but this wig… I did not like it at all. It looked like a wig and it sort of felt like if you touched it, it made a sound or would start screaming. So it's a no for me for giving the Oscar for Judy in this category.
BOMBSHELL (2019)
You can probably tell that this is a list in the order of how much I liked the movies and how likely they are to win the Oscar. While Bombshell definitely is a top contender in my book, part of me wishes it didn't win. Not because it did a bad job but because I think the one I'll mention next deserves it more.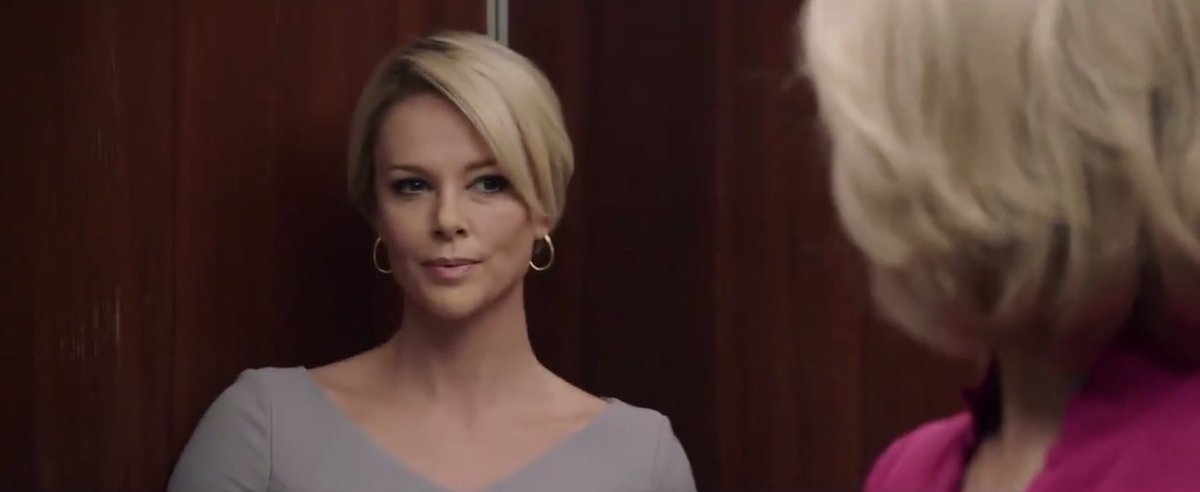 Bombshell took very pretty women and made them look as good on screen as other people. Charlize Theron got have the WOW factor by looking very similar to the real life person she was portraying. It looked eerie and well, it looked pretty darn amazing. Do I think the makeup and hairstyles worked and looked polished throughout the movie – yes. There was a lot of prosthetics that went into it done by Kazu Hiro – the guy who won for Darkest Hour.
If my own personal favourite doesn't win, I hope Bombshell nabs the Oscar because I think they did a good job. Even though Nicole Kidman's wig didn't look that great.
1917 (2019)
What a surprise to see myself being the only one to predict a makeup and hairstyle nomination for 1917. Surprising since I thought the sheer fact that it was made to look like a one single take movie would be challenging for every department. Not to mention for the makeup and hairstyle people who would have to keep the continuity going. Sure every movie has that continuity thing happening but with a linear timeline it feels more crucial.
1917's main characters crawl through mud, get blown up, have stuff in their faces, have to wash it off – it's all for the makeup department to handle. It looks messy, it looks like war, nothing screams out of place. Not to mention the DEAD bodies! The work and detail put into 1917 by the makeup department is miles ahead from the other nominees in my opinion. Especially since nobody's talking about prosthetics and wigs with this one. Sometimes less is more.
So 1917 should win here and that's my honest opinion. But since nobody else figured to predict its nomination, I'm guessing it won't end up winning…
1