Over a month has passed since I wrote my last movie review and it's the first one this year so obviously this is a very special post. So for a special post I have chosen a special movie and when I say this, I mean that Stoker is very special because ever since I watched it I have had this weird feeling that it somehow crawled under my skin or something. And when somebody said to me that they didn't like Stoker because it bothered them it hit me, Stoker is disturbing and weird, and that is why I loved it!
Before I get into the actual review of Stoker and its symbolism that had me pointing at the screen in excitement, though I was watching the movie alone, I want to talk about the consequences it had on me. Over these past few days now I have been suffering from what I like to call a Goode-fever. This isn't necessarily a good thing because most of the movies I have revisited because of Goode have been romantic comedies and you all know how much I dislike those. But somehow, probably thanks to the fever, the rom-com's were a bit better this time around – half naked Goode most likely had something (read: everything) to do with it though.
That being said, Goode's leading performance in Stoker was totally different from what I had seen him before and thank god! He is brilliant, which is, in my opinion, something all British actors have in common, and he stands out next to Wasikowska and Kidman, who are as equally brilliant in this movie. Goode's Charles Stoker is haunting, vulnerable and scary at the same time and with performances like these, it's hard not to appreciate characters like Charles. This by the way is definitely not helping me and my fascination of serial killers (I sometimes stay on Wikipedia for hours reading about real life serial killers, in the dark, before bedtime)! And then there's also India (Wasikowska), as complex as her uncle Charles, she is searching for her place in the world after her father's tragic death on her 18th birthday.
To balance the weird and scary, India's mother Evelyn (Kidman) portrays the so called normal and yet, she is as broken as the other characters. Though her wounds are reflected in her choice to drink and drown her sorrows into the arms of her late husband's brother, she is never as dark as the people around her. There are some great scenes between Kidman and Goode in Stoker but I can't help to wonder about the chemistry between Goode and Wasikowska instead. Those two managed to create a connection that felt right while it was so completely wrong in every sense that it still scares me.
Surprisingly though, despite the great chemistry between the main characters, one of my favorite scenes from the movie is actually the final scene with India alone. I think it's partly because the final scene in Stoker is accompanied with this haunting musical track by Emily Wells and it features a very interesting direction by Chan-Wook Park. It is a perfect ending to the movie because it's as weird as the movie itself. By the way, Stoker is written by Wentworth Miller, the guy who broke out of prison by having the plan tattooed on his body, and I'm not going to say I'm a fan but I'm definitely intrigued to see what the guy will come up next.
Why? Well mostly because while Stoker's plot does have some weak points, Miller's twist on the whole concept of evil got under my skin and though not the best thing ever it's certainly different and worth some praise. Also, it takes a lot of courage to attack so many dark subjects at the same time because let's face it, Stoker had some serious family issues going on! In the end though, most of the success behind Stoker was thanks to the brilliant performances by the cast and its unique direction by Chan-Wook Park. Being completely honest, most of the strength for me was actually seeing those connections between India and Charles hidden in the visual surface of the movie.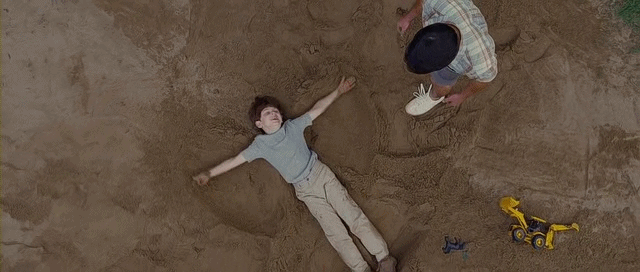 Two sets of parallels in particular stood out, the one with the spider and the bug and the other with the bed and the sand angel. While I don't necessarily understand the symbolism of bugs completely, I have this eery feeling that it means to project the fact that bugs are drawn to evil or something that is rotten. It would make sense for the spider and the bug to represent just that because the symbolism of the snow angel is the opposite. Innocence, child like behavior – the angels India and Charles make are hauntingly similar and since we witness something horrible with Charles while he playfully creates his angel (another symbol by the way), we are left to wonder if India has that same darkness in her.
There are various other parallels just like these in Stoker, one in particular with the piano is strongly embedded in my brain right now, and symbolism seems to be everywhere. One minute away from the screen and you might miss something, that's the feeling you get when you watch Stoker and I liked that feeling. It might not be my favorite of 2013 but it certainly was memorable and it brought me my Goode-fever which I don't want to fix any time soon.
1