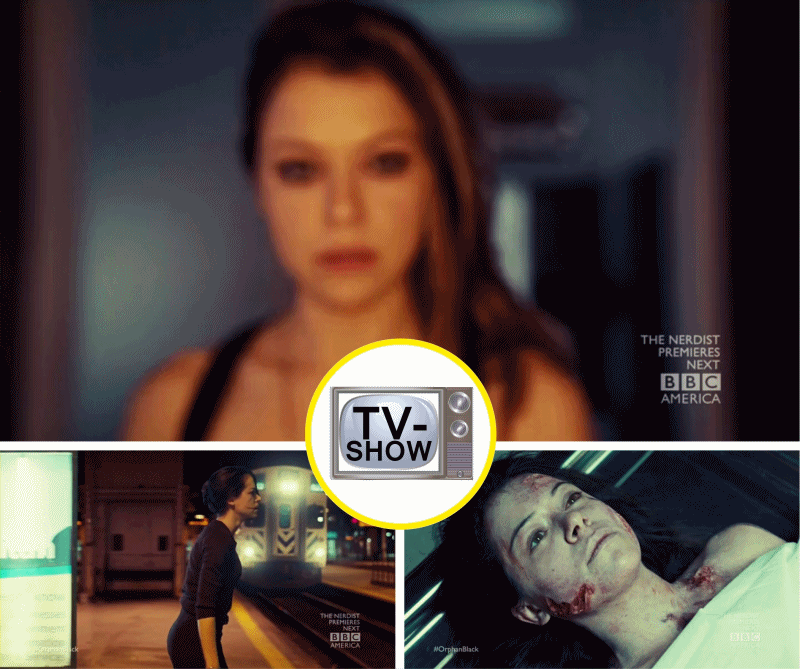 Mostly spoiler free.
People might not be as excited about the TV-show posts as movie reviews but honestly guys, I haven't watched a single movie this month (except re-watching Big Fish on Sunday) and I need to write about something. So for now, I'm gonna give a short overview of the newest sci-fi series that has me hooked and for good reasons.
It's surprising how some shows just sneak up on you without any warning, for instance Orphan Black's entire season had already aired when I found out about it – but then again, getting to enjoy the entire thing without the torture of waiting for weeks is my kind of entertainment. Besides, with Orphan Black the waiting would have been pretty difficult: one will just itch for answers week after week and that is torture. With ten episodes in the entire season, viewers do get a lot of answers but like with every show there are a lot more questions left in the air by the end of the finale. Still, the road to the finale was a thrilling one and a pretty satisfying journey in terms of action and drama – basically, I liked the first season of Orphan Black a lot more than I expected.
The show is a mix of Kyle XY and Ringer – it is a sci-fi dream with a hint of Ringer type drama that is well executed. I wouldn't say it's amazing scene to scene, there are moments when it feels weak, but the plot mystery keeps it on surface and makes the whole experience worth the time. I would say that this show would be perfect for those who enjoy sci-fi and have a lot of time on their hands. In terms of the acting, I'm very impressed by the leading lady who takes the show to a very compelling level. Sometimes it feels as if all the characters Tatiana Maslany plays are actually not the same woman. It doesn't come down to the clothing or style but somehow Maslany has the ability to transform herself to a point where I forget that one woman is playing all those clones.
First plot twist has now been revealed, there are clones and a lot of them. It never feels over the top though, there is a reason for it but that would involve spoiling more than one episode and I'm not going to do that. Bottom line, there are clones and that is the basic sci-fi element to the whole series. The drama aspect comes down to different relationships and friendships, in addition to the connection the clones have with each other. There's also a bit of action but it isn't the main idea of Orphan Black. For me, the interaction between the first character we get introduced with, Sarah (Maslany) and Beth's (Maslany) boyfriend Paul (Dylan Bruce), is interesting but not over exposed. Alison (Maslany) and Cosima (Maslany) are both very different from Sarah as well as Beth – it's quite exciting to get to know them throughout the first season. For obvious reasons, Sarah is my favorite out of them all but I find Alison to be the most riveting.
When it comes to the quality of the show, it's quite alright actually. I was a bit hesitant with the clones interacting with each other and the whole Maslany vs Maslany scenes but it was decent. To be honest, it was so decent that it kind of enhanced the effect of making the characters differentiate from each other – honestly, I can't get over the fact that at times I literally forgot that Maslany was playing all those women. Maybe I was just super tired after work all the time but I think that it just comes down to the fact that Orphan Black really managed to create a group of clones that feel authentic and totally different people.
In the end, Orphan Black surprised me and in a positive way – thank god, because I miss watching good sci-fi shows and Orphan Black just makes me want to see Almost Human even more (it premiers in the fall). What I think makes Orphan Black a bit more universal for people who might not enjoy sci-fi as much as I do, is the whole drama aspect. It has a bigger emphasis on regular human stuff and since the clone story lines are so subtle, I would think many people would enjoy Orphan Black. All in all, I recommend Orphan Black and if not for the entire season, then at least take a look at the pilot – I think dismissing a show just by its genres or plot summary is silly, so I support giving it a chance.
0