A while back I decided to change the course of this blog and now I'm finally sitting down to write about books. I've read quite a few good ones over the past few months and I wanted to quickly share some of my reads before the end of the year lists start taking over the blog. So, here are some of my recent reads.. all of which I have read during November (yes, I haven't really slept this month, in case you were wondering):
THE REST OF US JUST LIVE HERE
Patrick Ness / 2015

Though I'm not overly familiar with Patrick Ness and his work, (I've read the first book of the Chaos Walking trilogy), I'm beginning to like him a lot. The style of writing is great, effortless and he creates interesting characters even if they might not be in the spotlight. The Rest of Us Just Live Here is a story of anti-heroes, living behind the scenes while other people are literally saving the world. It's interesting, it's different and because I liked the idea, it was easy to fall in love with the book itself.
THE HYPNOTIST
Lars Kepler / 2011
A thriller crime novel written by a married couple is all I needed during my short vacation in the beginning of November. It was a quick read despite its length and I liked it. Though the mystery and maybe even the crime itself was a little dull for my taste as the book progressed, and since I wanted more gore as the summary suggested, it didn't blow my mind or anything. Still, when it comes to crime novels, I rarely find myself bored and The Hypnotist was no exception.
CARRY ON
Rainbow Rowell / 2015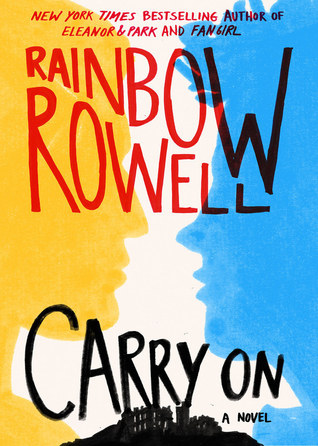 This book was great! Personally, as I'm a fan of YA contemporary and YA fantasy, this was like a match made in heaven in terms of genre. It had a little bit of everything and after finishing it, I'm now wondering whether I should read it again. Based on the fan fiction in Fangirl, based on Harry Potter, Carry On is a mixture of everything, yet light, quirky and fun for everyone who doesn't shy away from fiction related to teenagers, LGBT, wizards and vampires.
AMPLIFIED
Tara Kelly / 2011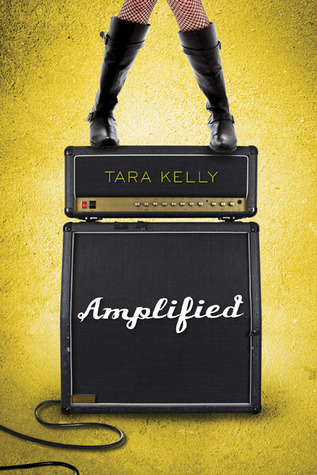 Quick YA contemporary read that centers a musician Jasmine, who is afraid to perform and has issues with her father. Though the beginning was a little stupid and weak, the book got better in the middle. Still, it wasn't good, though it wasn't bad either. I read these books to just pass time (mostly at night) and for that, Amplified was suitable. It was even a bit funny, and if you don't mind endless metaphors (which I did), quite readable in style.
QUEEN OF SHADOWS
Sarah J. Maas / 2015
The forth book in the Throne of Glass series was good from the start. Every night, when I came home from work, I couldn't wait to grab for the book to see what Aelin was up to. With other characters finally getting more story lines, and with Aelin coming to her own as a character, Queen of Shadows was a brilliant follow up to the previous books in the series. And in case you know what I'm talking about, Manon is amazing, isn't she? I mean, I think she is my favorite supportive character in the series and I think she hasn't even been given her full story line yet so.. I'm eager to find out more about Manon's future.
PS: It's difficult to discuss a book among a series especially with spoilers and all so I can't reveal my predictions for the upcoming books but I'm fairly certain of a ship that might sail and I'm soooooo excited!
DUMPLIN'
Julie Murphy / 2015
This was the book that disappointed me the most this month (not including the one I still haven't finished because so boring!). It sounded great because it's not often when I get to read about a chubby funny girl being all confident and what not. The DUFF being the closest to perfection, Dumplin' seemed likely to push passed it to greatness – well, it didn't. With a very confusing main character, Dumplin' fails to understand, explain and look passed the matter of weight and feels very forced. Maybe I set my expectations too high, maybe I felt like the character was not only lying to herself but to the readers, who knows. Dumplin' just didn't cut it for me and that's about it.
BINGE
Tyler Oakley / 2015
This marks my second autobiography this year (Mindy Kaling's Is Everyone Hanging Out Without Me? being the first) and I loved every moment of it! Tyler Oakley is a YouTuber and yet, I feel like he is so much more as a person. This coming from a person who has just read about his life, his stories and memories from childhood and adulthood. It was fun, it was sad and it made me think a lot more about myself than I ever thought I would. Considering the amount of YouTuber books out there, and though I've read only two, Binge is by far the best!
PS: The photographs in the book are priceless and inspiring in so many ways!
______________________________________
Let me know what have been your recent reads and if any of these have made it to your TBR pile down in the comments!