My addiction of TV-shows is obvious to everyone who knows me well enough to have suffered through my rant about a show or two. Yes, there are way too many shows out there and no, it's not possible to choose specific ones because I like so many for so many different reasons. I'm undecided like that, I will like shows in their specific genre even if they aren't as strong as shows in some of the other genres. Most often some of those shows will provide me with something special to gush about and in this case, I'm listing my Top 5 current ships – aka two people I want to be together forever and forever!
The first ship is from a brand new show called Sleepy Hollow, some like it, some find it to be too much in its short period of airing time. I happen to be in the category of liking it and I'm not even sorry, it has likeable leading characters and some of the visuals are actually extremely well done. Yes, the story line is developing rapidly episode to episode but it makes it interesting. Also, I'm glad that the writers aren't milking the fact that Ichabod is not from this century too much. It took 7 episodes before he was introduced to the computer, other might have wanted that to be the first thing he encounters. Also, I like that they are keeping him intelligent and poised throughout scenes where he is encountered with things he does not understand or know, it goes well with his personality. Anyway, I seem to ramble about the character development and forget that this is about a ship: Ichabod with Abbie. Now, it's not the strongest sailing ship in my mind because I tend to see them as really good friends. I don't know if it is the lack of chemistry or the fact that Ichabod seems to be faithful to his wife but I don't necessarily love it as much as the following top 4. Then again, I wanted to add it to this list because I think it has a lot of potential! Plus, they seem super cute together with him being all tall and British, and her being bad ass and awesome.
Favorite moment between these two is a difficult challenge, they pretty much share the screen 90% of the time and though I'm tempted to choose one of the lighter scenes where Abbie explains Ichabod about the water or Starbucks, I'll go with an emotional scene where Ichabod has given up but Abbie still fights for him. This broke my heart because she cares for him like she cared for her mentor (who died in the first minutes of the first episode), he was there when she thought she had lost everything. This is also the scene where he shows her that he cares, calling her Abbie for the first time which is not very gentlemen of him (considering where he is from and all), it also refers to a fact that he also cares a lot. So pretty much a lot of caring going on between these two and I'm just hoping there will be a lot of tension between them because all the female and male leading characters tend to end up together eventually, I can think of many examples and I'm sure Sleepy Hollow will be one of them in the future. For now, it's just a fun little ship I enjoy each week.
Haven has a complicated plot and it is getting weird this season, more than usual, but I still enjoy watching it. Most of the excitement that the show had previous seasons is slowly fading but we still have Duke and that makes everything a little better. Though there is no reason not to ship Duke with Audrey, I'm glad that the show brought in some fresh meat to add some new plot lines into the lives of people living in the unlucky town of Haven. Jennifer is that new character who happens to be just the right amount of cute and quirky! Knowing from experience, it is quite difficult to bring in a new character to a show that has already run for some time, but I think Haven managed well with Jennifer and it's nice to see Duke come out on top for once.
Now, this ship is already pretty much sailing and out of this list, they are the only ones who have managed to secure the couple title – with all the Haven drama it's good that some things are less messy. And yet, I'm excited for these two and ever since they met, they have had some great moments together. One of those was definitely the one with the yoga stuff, who knew Duke could be so flexible and yoga-esque. Anyways, as Jennifer is more of a quirky female character, she shows to be not so talented in yoga which makes for a fun and an entertaining scene. Therefore I'm definitely looking forward for more these kinds of funny and yet very compatible moments with Duke and Jennifer. Though they are now a couple and they kind of live together (?) and they have all that Haven stuff happening around them, I hope this ship will grant me some good TV time for the rest of the season (which is sadly just 4 episodes).
When Once Upon a Time first started airing I was skeptical, it didn't sound like something I'd enjoy but boy was I wrong. The twists and turns this fairytale inspired series is giving us has me all fired up at times, especially when it comes to Emma Swan's relationship with Captain Hook. Now, they are not official, who knows if they ever will be as long as Neil is around but man, I want that ship to sail and more than ever I want Hook to be the captain! He is the bad boy who will turn good for Swan, actually, I think he already turned good so I'm just waiting for that magic moment between these two characters. Last three episodes have provided moments as close to magic as possible and yet, I feel like it could get so much better. For one, Emma is clearly not over Neil and is simply confused and scared but that means using Hook and it's just wrong – he cares for her, actually cares like a man should but I think now knowing that, Emma will make up her mind sooner… I hope. But I have a feeling they will toy around with them for a long time. Piece by piece they are giving us Hook and Emma moments and then they'll bring in Neil. Anyway, I don't want to be in Emma's shoes because I kind of ship Neil and Emma as well. But currently, Hook is on board Emma's ship and I'm like what I'm getting.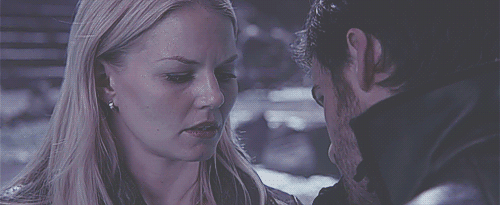 There are numerous moments I'd like to talk about because I feel like they have had some great moments, small and yet very profound moments. Though the scene couple of episodes back should grant me my favorite moment, I don't want to name that particular one as the best ever yet. I picked an older one and it is one of the first moments they shared: Emma and Hook go on a mission to get the last bean. Now, this was pretty much the time I was already shipping them because it was hard not to. Who knows, maybe it's the pirate thing, maybe it's the bad boy thing, maybe it's Colin O'Donoghue being all about the smoulder but who cares, I just wanted it to happen right there and then. After we were given the whole Hook and Emma ship, Neil came back and I wanted that to happen, now it's Hook again: Once Upon a Time writers probably haven't made up their minds, Emma clearly hasn't made up her mind and even though I'm listing Emma and Hook as my current favorite ship, I'm pretty sure if Hook was standing next to Neil I wouldn't be able to make up my mind either.
When I started with Scandal it took about 3 episodes to be totally hooked and couple of more to start shipping Olivia Pope with the president. That ship sailed for a while but all voyages must come to an end: enter Jake Ballard. The first time we meet Jake we don't exactly know what to think about him, he is sketchy at first but one cannot hate Jake for long – the ship for Olivia and Jake eventually started sailing quite quickly and it's been a wild ride so far. New season is bringing some new wind into the picture and I just hope Olivia can forget and get over Fitz because that relationship, as passionate it might be, is doomed. Last episode kind of proved to me that Jake is the good guy, he trusts Olivia, he knows she's strong and is not going to protect her by hiding the truth from her – something a lot of men do. But not Jake, he's the closest to perfection I could imagine and it helps that Scott Foley looks fine.
There are many moments I adore between Olivia and Jake but one of my favorites is from the latest season, Jake has been missing for a while and when he suddenly appears at Olivia's doorstep he looks miserable. Next time we see Jake he is in Olivia's bed, naked… Olivia watching over him in a weird gaze as if she is adoring him from a distance, unsure if she should get in bed next to him. The emotional struggle Olivia seems to have between Fitz and Jake is just irritating at times, there's raw passion for Fitz and then there is Jake, who seems to be a much better fit. In addition to all these emotional and meaningful things we see in this scene, there is also the added bonus of seeing Scott Foley with a beard. Oh yeah, and we must not forget the nakedness!
The Originals has started quite strong, despite the fact that they kept Elijah in a box for too many episodes – I'm a fan of Klaus but seeing him without Caroline is not that special. That ship should be number one here but since they split them up, I'm gonna go with Elijah and Hayley. What makes this brand new ship strong and amazing is the fact that it will cause a lot of family drama. That being said, Klaus's baby mama hooking up with the older brother, doesn't that sound vaguely familiar? Anyway, even though Klaus doesn't seem to care for Hayley, he is a complicated man and seems to change his mind more than once in a single episode, so I'm quite certain he will be disturbed by this ship. That being said, it will be amazing to see Elijah fall for someone, I know he was with Katherina and there was a bond between him and Elena, but Hayley's character is showing a lot more promise. Plus, is it wrong to look forward for a show just because a certain character is yet to reveal what's under that well worn suit? I'm pretty sure it's not cause it feels right, yes, Elijah shirtless, that's what this ship will provide us!
Now, since the show is pretty fresh and it really hasn't provided a lot of moments due to the fact that Elijah was out cold for most of the episodes, I have to list one of the latest moments in the episode prior to last week's episode as my favorite. Elijah returns, glad to see Hayley the most and then Hayley decides to storm off like a little teenager but we'll forgive her that because she has a hybrid baby inside her and her hormones are probably making her a bit moody. But like a true gentlemen Elijah follows her and without a doubt the ship is built. They exchange looks, ship is sailing high clouds at this point, and then she shows him her grumpy werewolf side and slaps the hell out of him – pretty much saying she cares enough to be mad he wasn't there for so long. I understand, I was mad as well because Elijah is probably my number one reason to watch The Originals since they took Caroline away from Klaus. Anyway, based on last week's episode, this ship is just destined to sail hard from now on and it's just a matter of time until they actually become an item – because let's face it, this is going to happen, and by this I mean shirtless Elijah!
————————————————————————————-
Let me know in the comments if you are on the same boat with these ships or what particular ships are sailing on your TV at the moment.
PS: This post was written mostly on a fangirl high which isn't my regular state of mind but I actually enjoyed it, sometimes it's good to love things too much.
0