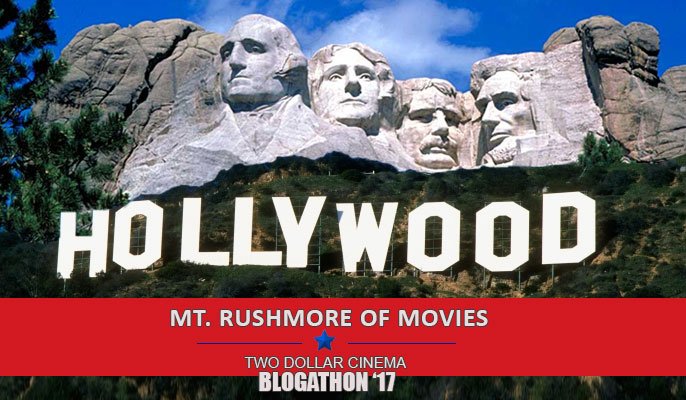 It has been… well let's just say it has been a long time since I last participated in a blogathon and I think it's time to do one. More specifically, it's time for Two Dollar Cinema's Mt. Rushmore of Movies Blogathon! Here you have to choose top four anything cinematic, from 4 favourite villains to your top 4 childhood television shows, the possibilities are endless! And with such grand freedom, of course I had to carve four epic beards into my Mt. Rushmore of Movies.
Have you ever thought about beards and that the meaning of them has changed over the years, and how beards have slowly become not only for old men but for young guys as well. Because when I was researching for this post (it was crucial that I'd Google a lot of beards before I made my decision), I noticed that there weren't a lot of hot and young beards back in the day. I was even surprised to see two sets of promotional images of Ryan Gosling's face on The Notebook poster – the main image was him with his beard, and yet there were multiple edits where he was clean shaven. This was back in 2004, when the change begun, in my opinion. The leading man of a romantic comedy went from a boy to man and women were no longer looking for a clean shaven prince on a white horse. Fuck it, even Fifty Shades Darker realised their mistake and allowed Christian Grey some facial scruff! But things aren't as beardy as they could be and there is a long way to go towards that less Ken-doll-like look.
So hopefully times are changing and beards will soon take over the movie world, as they have slowly emerged into the limelight. Though not enough currently to fully quench my thirst for beards but enough to give me hope. Also, I should mention that I really wanted to list Jake Gyllenhaal a lot in this post because I think he rocks his beard oh so well, and I thought about Robert Downey Jr. as Iron Man as well but went with the following four characters with great beards that help me sleep at night.
BONUS: John Krasinski as Jack Silva in 13 Hours – a movie I haven't seen because it's a Michael Bay movie but I have stared at that beard in stills quite a lot and let's just say.. I might watch this movie soon for one specific reason alone (and yes, that reason is the beard).
4. Ryan Gosling as Noah in The Notebook
Oh, the good old era of romance movies which didn't involve red rooms and submissive stalkers.. I miss those times. Anyway, I really tried to look further back but I think The Notebook and Ryan Gosling's beard in that movie was the first proper sighting of a bang-worthy-beard I could think of. The beard was not always there but when it finally presented itself in those crucial moments of his character, I was opening my.. mind to the possibilities of beards and life has never been the same. Plus, I don't think Gosling looks half as attractive without his beard or at least some scruff, so well done The Notebook for giving us a Gosling beard and making him realise that beards make those panties drop.
3. Idris Elba as Luther in Luther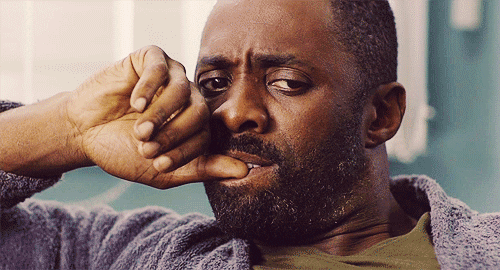 Alright, well, I had to, okay!? Even though I haven't seen the whole thing myself, I have seen enough to appreciate Idris Elba's beard and that should be enough because I have fully accepted the greatness of said beard based on that limited encounter. Granted, a lot of its appeal stems from Idris himself because have you heard that man's voice? My god, it's like honey.. and did you know he and his beard recently decided to train 12 months to become a professional kick-boxer for a Discovery UK show called Fighter? Yes, well, you know now and you are welcome because what can be better than that beard? That beard on a half naked Idris training and working up that sweat with exercise – yes, there are clips on YouTube, and yes, you may go look at them before you continue on reading!
2. Michiel Huisman as Ellis in The Age of Adaline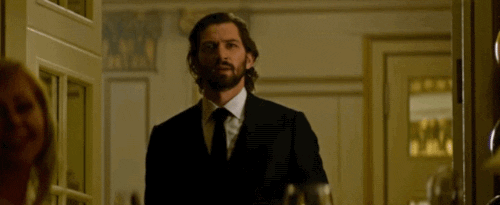 My god this beard will be the death of me… like, seriously, this is honestly one of those few romantic movies that has a leading man with a beard! Why is that? Huisman looks so damn good in this movie and I'm not going to lie, the beard makes the movie better, so could you imagine all romantic movies with a beard like that!? Oh, just the thought of it makes me swoon. The fact that the beard makes Ellis such a fine leading man is a great example how flawless characters can be created – intelligent, tall, funny, kind, caring… with a beard! If more romantic movies took that step towards having a male lead with a beard, a world would be a better place. Hell, romantic movies will rise from the ashes of the 90's and the early 00's to new heights if they cast men with beards as leads, and I'm pretty sure I won't be the only woman lining up to see these said movies that don't yet exist. And Huisman alone could make a fortune if he just kept showing up with his epic beard…
1. Jake Gyllenhaal as Adam in Enemy
Alright, so as I mentioned, I would have loved to list Jake a lot more than once but it wouldn't have been fair to the other bearded men out there. The thing is, Jake Gyllenhaal is the actor that always comes to mind first when I think about beards.. it's probably because he has been sporting his for quite a few years and even if he doesn't have one for his movie role, he will promote said movie with a full on beard. He knows what works on him, and I'm glad the Enemy director saw the power of the beard as well and let Jake keep it for the movie.  And there is no denying of the fact that we'll see Jake's beard more and more in the upcoming years. Sadly though, his romantic movie days are probably past him, since he is taking on heavier roles, but if he were to venture back to wooing women with his shirt off, I would recommend those movie people to keep the damn beard! Because there would be no wooing necessary with a beard like that, it would be, "Hello.." and straight to the bedroom because no sane woman can resist a beard, let alone a gyllenhaal-beard!
0