Sam Heughan. Sam freaking Heughan. I have no other words at the moment because I'm completely numb from my Outlander marathon. I'm currently pacing myself with the episodes after watching six in a day (piece of cake for an experienced TV watcher), because I want to finish the book first. And the second season isn't here yet! The wait will be difficult and I can't imagine joining the Outlander fandom in 2014 just to wait TWO years for the next season – that just sounds way to long to be without Sam Heughan, way way too long!
There are no major spoilers ahead.
PLOT
A combat nurse, Claire is enjoying her honeymoon in 1945 at Scotland when she is thrown back in time, to the 18th century Scotland. Having a fairly good amount of knowledge of plants and being a nurse in the 20th century, she becomes valuable as a healer all while being a guest and a prisoner at the castle. Being determined to get back to her husband, Claire is constantly planning to get back to the place that took her from the present and threw her into the past.
MAIN CHARACTERS
Claire Beauchamp/ Caitriona Balfe
Definitely one of my favorite heroines right from the start. She is smart, brave, strong minded and confident – a great woman, who has seen some horrible things and yet has kept her wits and appetite for life. Her commitment to get back to her husband, still in 1945, shows her to be loyal.
She is quick to adapt herself into the 18th century, she becomes very accustomed to the way of dressing and speaking differently. She also emerges into the politics a little, all while curing people with limited resources.
Balfe, who portrays Claire, does it exceptionally well. Natural and effortless, even in the more difficult scenes, she seems like a joy to work with.
Jamie Fraser / Sam Heughan
A Scottish warrior, who has a bounty on him by the British army, who protects those who need to be protected, and who is willing to throw a woman over his shoulders – a complete package. Yes, I'm that easy to please but add in the accent, and I swoon and step willingly into his web.
He is honest, smart, and clever, and a bit stubborn I would say. He seems like the perfect man though, and it's a surprise he is still single by the time Claire ends up in the past. And I'm not even gonna get into the whole appearance thing because I wouldn't be able to focus on anything, let alone writing, after describing the outline of his muscles.
Heughan, obviously, does a great job portraying him and he just oozes kindness while being rugged and manly. Just the perfect combination. Love the fact that we have a real Scot as Jamie, and the fact that this Scot is Heughan.
Frank & Jack Randall / Tobias Menzies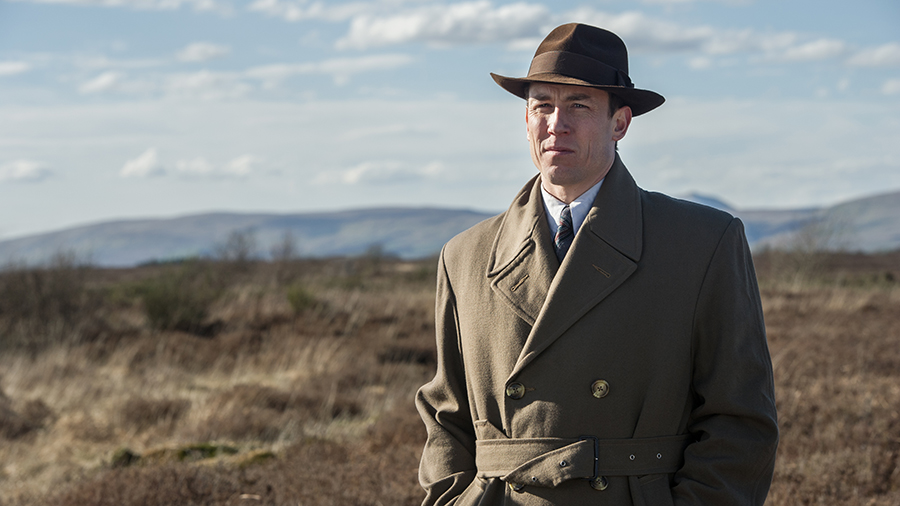 This is not a paragraph about a set of twins, this is about ancestors. Frank is Claire's husband in 1945, and Jack is the, and pardon my French, asshole in the 18th century. That's probably the best word to describe Jack, long before we witness the horrific scenes that appear after the first episode. All while Frank, in the flashbacks, is a decent man, and the kind of a man Claire loves and adores, and desperately wants to go back to.
LITTLE THINGS THAT I LOVE ABOUT OUTLANDER
Fitting for the show, the theme song is such a great track on its own but even better with the context of the series. It still gives me goosebumps, even after six episodes. And yes, I always watch the intros even while I marathon through the show.
The tiny little sci-fi element that implies time travel, adds so much to the series. I like the fact that Claire's present is still the past to us, and that she feels out of place in a time, that feels completely strange to us. Plus, I love that the events take place in Scotland, that's just an added bonus.
When first seeing them, I thought they looked very bad. Then, after watching the scene where he got them, I felt worse than ever. The sheer physical pain I felt for the character, in that moment, was unbearable.
Granted, I have not finished reading the first book written by Diana Gabaldon yet but I like that the show is inspired by it in such a honorable manner. The show quotes the book, it doesn't alter things a lot and it keeps all the best things from the first book in its first season (I know, I've read and seen most of it by now). Right now the book has taken my life over, but right after I finish it (this week most likely), I'm watching the first season again!
The chemistry/tension between Caitriona Balfe & Sam Heughan
Both were unknown actors to me before but now I've enjoyed their performance together a lot. Sam Heughan obviously being the bright star for me, I know that Caitriona Balfe is obviously just as talented. But together – sparks, fireworks and what not! You'll understand when you see the seventh episode… oh boy. And then comes episode nine, where a lot happens and both of their characteristics evolve. So much love towards them, apart but mostly together, and I can't wait to read their story from the pages in the books.
The fifty shades done right
So at this point, I've read over 500 pages of the book and I've been very surprised how rough Claire and Jamie are in the bedroom. It definitely has a fifty shades vibe, but better and more dangerous even. And despite the fact that Jamie is described to be very rough, Claire is also described liking it, so bring it on Fraser!
The element of folklore and history
The element of history in the series is lovely, partially still a bit hazy for me, but still lovely. I imagine them being authentic references to folklore (?), for instance a scene where women beat water out of the wool whilst singing – amazing. I read a bit more about the folklore influences and inspirations the show uses, and found it to be fascinating. A lot of work has been done by the author Diana Gabaldon of course but I like how the show highlights some of these elements.
Can't understand it, but I like to hear it and it's nice to have such an element in the show. The show does shy away from it after the first half but it's probably more because of Claire and her dynamic with the other characters. The actors did learn how to properly speak Gaelic for the show which only adds to its standard.
There isn't much, but there is some humor in Outlander to balance out the drama and seriousness. The first episode has probably my favorite moment, where the men are surprised by Claire's use of words, as she has not adapted herself completely into the 18th century yet.
Outlander looks authentic! That's probably the biggest compliment I could give it because I really can't fault it. The feel of it, the aura around it, everything just looks and feels great. The outfits, the sets, the fact that the series was actually filmed in Scotland – it just screams perfection! And there is a scene, a very graphic one, that had me closing my eyes because it felt so real, it hurt.
JAMIE APPRECIATION CORNER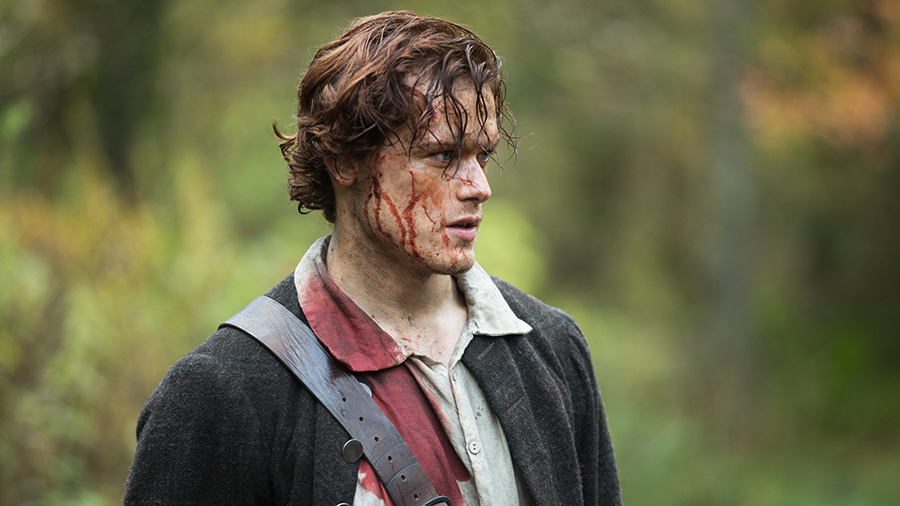 ______________________________________
And because I'm currently all alone with my Outlander craze, I need to know: are you a fan of Outlander because let us fangirl together!?
0