Going to spoil the surprise but I've been having a great time with Hidden Gems in 2021! The choice to go all British is giving me a lot of joy. Especially this month with Tom Hardy because I got to see two UK releases I'd missed over the years. Plus, that accent!? So delicious. While I was a little off with one of my picks I wasn't too bummed about it. Though I guess it depends on how you look at it. Anyway, here's to another successful Hidden Gems month!
WHY TOM HARDY?
When I decided to make Hidden Gems 2021 all about British actors and actresses I had a few must haves. Tom Hardy was one of them. He has that bad boy vibe that I like. That charm, and yes, the accent does help a little… But he's also a very talented actor and manages to shine in surprising roles. Mad Max: Fury Road, barely talks and wins over my heart! Venom with an unexpected madness that I, to my own surprise, loved a lot! Plus he also stood out in Inception which is an achievement on its own. Such a huge cast and Tom is one of the more memorable characters in the entire movie.
So picking him for February, my birthday month, was an excellent choice. Seeing so much Tom Hardy was just a joy for me. A birthday gift from myself to myself.
STATISTICS
Letterboxd has 66 Tom Hardy projects, I took out shorts, documentaries, behind the scenes stuff and the ones still in production. After that I was left with 46. Out of those 46 I had seen 9 – A CRIME! Though to be fair I could not for the life of me find many of his earlier films. So it's not about the avoidance but about the accessibility.
So I've seen 9 of Tom's performances and these are my favourites: Mad Max: Fury Road, Inception, Dunkirk, Venom and Rockn'Rolla.
I've also seen The Revenant, The Dark Knight Rises, This Means War (really wanted this to be among the favourites though) and Dot the I.
My picks for the Hidden Gems challenge were random and I ended up watching: Locke (2013), Layer Cake (2004) and The Drop (2014). One of my initial picks was London Road (2015) but it didn't work out. 
Minor spoilers ahead as always.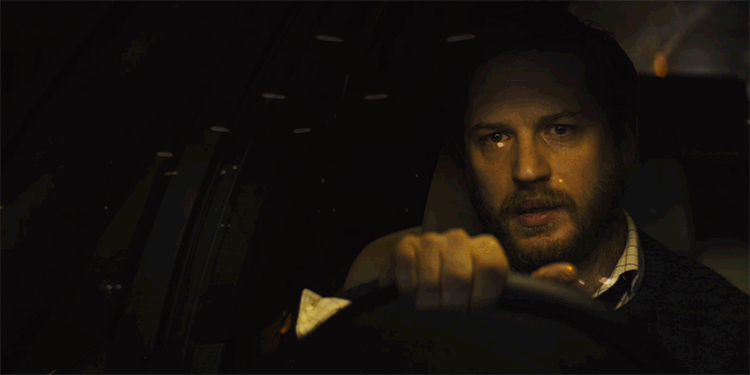 I had no idea Locke was an 1,5 hour movie of a guy driving in his car and making phone calls. No idea what so ever! So going into this I had clearly no expectations or knowledge. While the movie did feel a little anticlimactic the ride was still enjoyable. Listening and watching Tom Hardy and just Tom Hardy for that long was pure joy.
Loved the fact that he had his accent and that scruff was also great. He had some moments where he could show off his acting chops and the voice acting from the rest of the cast was good too. The ending though, I don't know. If anything it's about the script and not the entire movie per say. Tom did everything he had to do and was able to do. The script simply didn't wrap things up as well as I would have wanted to.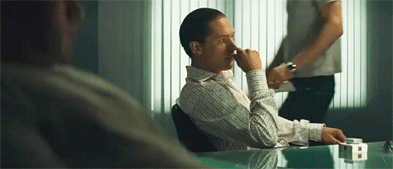 This one was a joy as well but not for Tom Hardy. I had no idea he had such a small role. He was barely there. Layer Cake is basically Daniel Craigs show and his show only. So during like 99% of the film I was missing Tom Hardy's presence. That being said it's not a bad one at all.
With a hint of Snatch vibes and Rocken'rolla feels, Layer Cake is another one of those multi layered British crime movies. Lots of characters, lots of stuff happening and lots of twists and turns. While it did get a little all over the place the ending tied it nicely together. I also found the ending genuinely surprising so kudos for that. The lack of Tom Hardy though, that hurt.
SURPRISE!


Before I get to my final pick I'm here to share another Hidden Gems movie challenge participator, Allie from Often Off Topic! Allie's February was all about Kristen Stewart. Read about her month RIGHT HERE.
My last pick for this months Hidden Gem challenge was The Drop. And now que the love filled paragraph because oh my god! I LOVED THIS! I'm afraid to shout it for the second time because a hidden gem so early in the year is kinda scary. But oh wow. I for some reason missed The Drop when it came out. Glad I did because I got to enjoy it more privately, away from all its buzz. We have Tom Hardy in a very complex role here and we have a cute puppy that almost steals the entire movie. Plus we have the late James Gandolfini and the talented Noomi Rapace and Matthias Schoenaerts. This one guys, if you have not seen it, watch it!
What I loved the most about the movie was its third act. That rarely happens to me that the third act hits me the hardest. Those movies usually end up being my all time favourites. I'm not saying that The Drop will be but man, that ending. The subtle danger in that one particular scene really gives the entire movie a new meaning. And the puppy!!! The puppy and Tom Hardy combo is just the cutest thing ever.
FINAL THOUGHTS
I'm really happy about my pick for my birthday month. Though I'm sad I didn't get a three for three combo I'm glad that all movies were good in their own way. Super thrilled about one of them potentially being an all time favourite. But I do want to say that just because a movie is my all time favourite doesn't necessarily mean it's the best I've seen.
The Drop has a lot of elements that simply work for me and the lust factor is also there (I'm not ashamed to admit this). Is it a hidden gem then? Well, I have 10 months to go but I'm fairly certain The Drop will remain in the top until the end. But I have a feeling 2021 in terms of this movie challenge will be a great one. Anything could happen.
---
Previously on Hidden Gems – MICHAEL SHEEN
Next up on Hidden Gems – AUDREY HEPBURN
7