Part of me thought I had one more day of June but turns out that was not correct so here we are. On the last day of June, discussing three Sam Rockwell movies and trying to find a hidden gem. This month was strange to say at least. Rockwell has had a lot of smaller roles and I happened to see two of them. Needless to say, I feel like I didn't get my Rockwell fix at all.
WHY SAM ROCKWELL?
With a few of my picks for this challenge, little to no explanation to this question is needed. Sam Rockwell falls under that category. Having liked his performances ever since I can remember, his Oscar campaign year threw Rockwell into my life hard. I was fangirling harder than I ever have and that love has remained strong ever since.
During my fangirl months I watched a lot of Rockwell's performances but the dude has been in so many movies. So I think I knocked off most big ones, most that I could get my hands on and all of the ones where Rockwell has a relatively big part. Even then I didn't really make a tent into his filmography because there's so much to still see! He is amazing in all of his movies though, like, even if the movie is bad, Rockwell shines. I love him so much!
STATISTICS
So Letterboxd to the help again (with my higher math skills). There are 81 movies listed in his filmography and before this challenge I had seen 27. Not bad considering I haven't found some of his earlier movies.  Yet, there are 53 of his performances I haven't seen yet… (now it's 50) Which means I have almost twice as many performances to go.
So I've seen 27 of Rockwell's performances and these are my favourites: Moon, Three Billboards Outside Ebbing, Missouri, Seven Psychopaths, The Assassination of Jesse James by the Coward Robert Ford, Hitchhikers Guide to the Galaxy, Matchstick Men, Laggies, The Way Way Back, JoJo Rabbit and Conviction. 
I've also seen Iron Man 2, The Green Mile, Charlie's Angels, Galaxy Quest, Frost/Nixon, Confessions of a Dangerous Mind, Mr. Right, Choke, Don Verdean, Better Living Through Chemistry, A Single Shot, Lawn Dogs, Welcome to Collinwood, The Winning Season, Safe Men and Blue Iguana.
My random picks for the Hidden Gems challenge were random and I ended up watching: A Case of You (2013), Digging for Fire (2015) and Richard Jewell (2019).
This one was a disappointment in a sense that it didn't have enough Rockwell. This ship was solely driven by Justin Long and Evan Rachel Wood and I was bored. I got a glimpse of Rockwell, a strange guitar teacher and he did say "pussy" a lot, so I guess that's something. (Didn't find any gifs of that but the one I chose at least has Rockwell playing guitar.) But other than that A Case of You falls under the category of movies where Rockwell was just there. He has some of these movies and there are two in this list. A Case of You features him far less than my second pick but man, what a bummer.
As a movie though, I guess it was alright. If it were Justin Long's Hidden Gems month I wouldn't call it a hidden gem though. I think as far as Long goes, he has a very well set box his characters usually fit into. This one was no different. The ending was a bit surprising but not much. I would say, a let down in all fronts.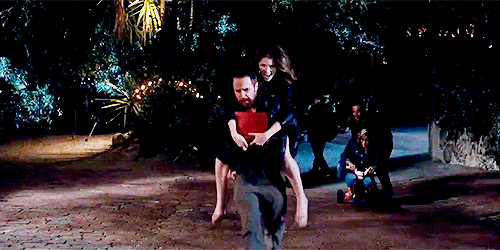 Another movie where Rockwell had a very tiny part in comparison to the entire movie. Here he played a strange friend to Jake Johnson's character. His presence was well welcomed but it was brief but again I simply wanted more. Even though I'm a fan of Johnson as well, it felt like it wasn't his time to shine.
Digging for Fire is a strange movie in a way that it has a lot of big names but the impact of the movie is small. It doesn't really flow well and the ending is not gratifying. I wasn't really into any of the characters and didn't want to root for anybody. Maybe just for Orlando Bloom's character, he seemed cool. Most surprising for me is that they got so many well known actors and actresses to take part in this project. Although… Movie 43 exists so not sure why I'm surprised. Anyway, I have nothing else to say except it was nice to see Rockwell and Anna Kendrick together, gave me Mr. Right vibes and that's nice.
If I ever have problems with the law, I want Sam Rockwell as my lawyer. Not just because I think he will do great but also because Sam Rockwell as a lawyer is my thing! He played one in Laggies and I loved him. He played one here, loved him! You see a pattern here? I mean, it's clear as day. That being said, Richard Jewell did what the other two movies did not, it delivered me a lot of Sam Rockwell. So much goodness, it was a joy to watch.
What I love about this movie is that the story is told very subtly and it gives the viewer time to get to know the characters. I loved the dynamic Rockwell had with Paul Walter Hauser, Nina Arianda, Olivia Wilde, Jon Hamm and Kathy Bates (basically everyone). Rockwell, even as a leading man, is so great at giving others space and not overshadowing them. Which in turn sort of makes him stand out even more. His banter with Arianda's character was so amazing too. Small moments but they carried so much. Eastwood did wonderfully here but he had some great actors to work with so I'm not surprised.
Hauser, man, that guy is a stand out every time he is in a movie. He managed to be so annoying and yet you wanted him to be okay. There was clearly a very fine line with Richard Jewel and Hauser walked it with superb detail. And yes, while I think the running time was a tad bit too long… which is a thing I guess I need to start getting used to. I would say, yes, this is, for me, a hidden gem. Mostly because I adored every moment Rockwell was on screen. What a treat!
FINAL THOUGHTS
Overall, Rockwell has some movies I haven't seen where he has bigger roles. I think Vice is one but I just don't want to watch at all. Yet he also has a lot of smaller roles here and there, which in this case sort of ruined my hidden gems month. There wasn't enough of him to go around – what a shame. That being said, Rockwell, when he can deliver, he will. Richard Jewell was a good movie, while the pacing was a little off, the performances carried it so well.  Most important thing though: please cast Rockwell as a lawyer more because that will feed my thirst and I need that!
---
Previous month on Hidden Gems –  BRAD PITT
Next month on Hidden Gems – EMMA STONE
1