The movie challenge Hidden Gems starts off with Anne Hathaway. An actress who's work I've enjoyed over the years but who has been in movies I've not liked either. She had a controversial vibe surrounding her during her Oscar campaign. Partly because there was just too much of her and apparently Anne Hathaway in small dozes is better. Also her Oscar hosting gig really didn't do her any favours. Anyway, for this month I watched three of her movies I hadn't seen before and two of them were disasters. As expected, Hidden Gems is basically a challenge where I torture myself.
WHY ANNE HATHAWAY?
I think part of me picked Hathaway for this challenge because she is good at both – drama and light hearted movies. She doesn't specifically have a genre she's in that appeals to me though. But I do tend to like her in romantic movies. Going into the Hidden Gems challenge I wished to see a different side to her, some variety and well, I really wanted to like her more than I do at the moment.
It's not that I don't like Hathaway, it's that she is a hit and miss actress for me. Part of me thinks she shouldn't be because she has the potential to be great. So that's why I picked her, I wished to fall in love with her more. Well… small spoiler – that didn't work.
STATISTICS
Letterboxd has 43 different released movies listed for Anne Hathaway. Out of those I'd seen 20. Now I've seen 23. Favourites among her filmography for me are The Devil Wears Prada, The Princess Diaries, Love & Other Drugs and Brokeback Mountain.
I've also seen Interstellar, The Dark Knight Rises, Ocean's 8, Les Misérables, Alice in Wonderland, Don Jon, The Intern, Get Smart, One Day, The Princess Diaries 2, Ella Enchanted, Valentine's Day, Rachel Getting Married, Bride Wars, Becoming Jane and Song One.
My picks for the Hidden Gems challenge were random and by luck I ended up seeing Havoc (2005), Serenity (2019) and Rio (2011). Here are my spoilery quick thoughts.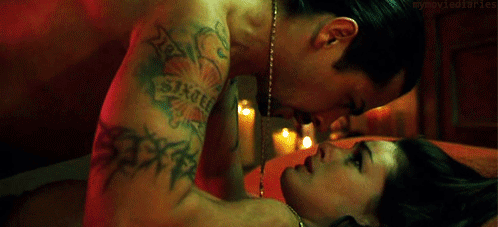 Part of me doesn't want to say a lot of bad things. Partly because Havoc was written by a young girl, 16-17, who died at the age of 24 in a plane crash. In other words, I don't think it's fair to trash somebody's body of work if we never got to see the progression. Still I have to be honest – Havoc is messy and feels shallow. It has serious themes such as social class difference, racism, sex, drugs etc. In ways, it's very close to Thirteen – a movie that explored the sexual awakening of a teen. Havoc is less defined as a movie and it's very haphazard. I cringed many times during this. Joseph Gordon-Levitt had a small role and he had an absolutely awful character!
Then there's Freddy Rodríguez who gets to play a stereotypical Latino gang member and it's just… sad to watch. This movie definitely does not age well in terms of its diversity. It's also very… dead end like movie. Like it builds and builds and then nothing really happens. I think I get what the movie was trying to say but it wasn't saying it. And then there was this making a movie plot that had no explanation nor repercussion. It was pointless.
Finally, the movie title itself. Havoc means widespread destruction. This movie had no widespread destruction. This was just one spoiled rich white girl trying to act all cool and ended up messing up her friend who technically was looking to do the same thing. I guess something might have happened in the end but the movie ended on a cliffhanger. So there's that.
PS: Anne Hathaway shows her boobs in this one.
Fast forward 14 years and we have Serenity – a movie that in ways also is as messy and weird as Havoc. It has this huge twist that is just awful. Honestly this movie makes no sense and it's actually a little sad to think about it because it has two Oscar winners driving this broken down plot.
In this movie Hathaway plays a mother who's second husband is awful and abusive. She goes to her ex husband played by Matthew McConaughey and asks him to kill the guy. Part of me wishes that that was the movie. Thrilling, exciting, a bit dangerous but no. Serenity has to add a computer generated reality into the mix. That's right, it's all a game and McConaughey is dead! Sorry I spoiled this but at the same time, you won't miss much when you won't see this.
The big problem of this movie is how McConaughey finds out that he's … a character in a game? And also how the movie makes the plot messier by adding this kill, don't kill scenario into the mix. It makes sense. And it's super boring to watch McConaughey play the same guy he always plays. Plus, Hathaway looks strange as a blonde.
PS: Succession's Jeremy Strong was in this and he happened to be my favourite!
Last but not least, it's time to mention my third random pick – Rio. This one was my favourite of the three. Maybe it was because animation movies rarely make me feel confused or fail to have a solid point. This was a fun movie but let me be clear, it's not the most amazing one. It sort of reminds me of Madagascar especially since the main character Blu (Jesse Eisenberg) is like Melman the giraffe.
Anyway this was fun and I had a great time watching this. But then again I had watched two very messy movies so it was not hard to follow them and stand out. Is this a hidden gem? Even though it was the only good one among the three, it's still not quite hidden gem worthy. Rio is not Zootopia or Kubo and the Two Strings kind of animation. Those two were really amazing and next to them, Rio is a little less impressive.
Still super cute and Jesse Eisenberg as Blu just worked wonders. Hathaway did nothing with the role, it could have been any woman voicing that bird and honestly… I know it's a bird but it's still a bit of a racist casting in my opinion.
FINAL THOUGHTS
First month of the Hidden Gems challenge is over and I'm happy to move on. I saw two movies that I was glad to have avoided and I wish I had continued to avoid them. I do think that if I had randomly selected Colossal I would have had a hidden gem this month. Sadly, that's not how this challenge works.
Feel free to tweet me @MettelRay your Hidden Gems challenge if you're participating. And I'll add those to the next month's post.
---
Next month on Hidden Gems – JOSEPH-GORDON LEVITT
3