The end is near and due to a mishap by me the end is also very fruitful. In other words, there will be two Hidden Gems posts in a row, one today and one tomorrow. Considering I also watched 24 bad Christmas movies this month my December has been one hectic sprint to the very end. But oh how it was so worth it. And when it comes to Hidden Gems Adam Driver I was enjoying myself throughout! December just became awesome.
WHY ADAM DRIVER?
There's no denying of the fact that Adam Driver is a brilliant actor. He has risen into the spotlight in recent years and has had the luck of being in relatively good movies. He even made the HBO show Girls seem decent. But as I've seen quite many of his performances, I still had a lot of movies to cross off from his filmography. I also knew some were probably going to be really good. And now it is finally time, Hidden Gems Adam Driver happened and boy was I right to have included him.
STATISTICS
Letterboxd has 35 Adam Driver movies listed in his  filmography and before this challenge I had seen 10. So not a lot considering but I've also realised he has done a lot of indie work which is something I was afraid to look for. Luckily my random picks ended up being more recent.
Out of the 10 movies with Adam I have seen these are my favourites: Marriage Story, Frances Ha, The Report and The Meyerowitz Stories (New and Selected).
I've also seen Star Wars: The Force Awakens, Star Wars: The Last Jedi, Blackkklansman, Inside Llewyn Davis, Lincoln and What If?
My random picks for the Hidden Gems challenge were: Logan Lucky (2017), The Dead Don't Die (2019) and Paterson (2016).
LOGAN LUCKY
So this one was such a lucky pick that I want to squeal from happiness. Logan Lucky was one of those movies that I just missed out on when it came out and once the hype wore down, I forgot about it. Then when I randomly got this one I had high hopes and Logan Lucky did not disappoint.
A heist movie with a surprise around every corner. I loved every minute of it too! Though Adam shines here this movie only works thanks to the entire cast. There's Channing Tatum, Daniel Craig and Riley Keough who all work to make the end result shine. Plus a lot of great supporting characters like Sebastian Stan and Seth MacFarlane and even Katie Holmes.
The script by Jules Asner (her script debut by the way) is strong as well. It has an emotional story arc but it also has humour and action. Plus the movie does well with adding twists and turns to its plot. The direction makes sense, the balance is so right and after the month I had this was a much needed dessert for me. I was genuinely surprised in the end which I'm also grateful for. So without any doubt this is a hidden gem for sure!!
THE DEAD DON'T DIE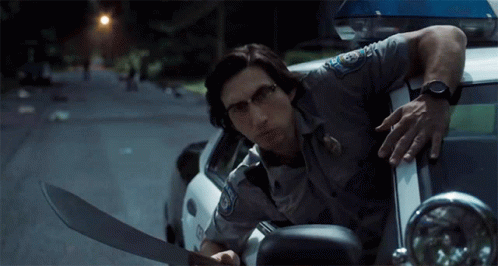 Horror comedies have brought me much needed joy in 2020 and The Dead Don't Die is no exception. The entire movie takes place in a small town and we have multiple character arcs going on. With a great cast Adam still shines as a police officer who quickly catches on what's going on.
As it's obvious from the title and the gif above this is a zombie movie. But the dark humour it comes with makes it a refreshing addition to the genre. I must say that the pacing is a bit off and the end game sort of sizzles out and becomes a bit too meta for my taste. Like it went a bit too far out of the box for me. Yet the entire ride itself is enjoyable. I thought about it long and hard but eventually decided it's not the best dark comedy zombie horror but it's still a good one!
Plus Adam with glasses and Tilda Swinton kicking ass is just so damn beautiful to watch.
PATERSON
This happens to be the second Jim Jarmusch's movie in this list, the other one is the zombie movie. But Paterson is far from a zombie movie. It's a mundane look at a man's life. This is entirely an Adam Driver show. He is on the screen the entire time, interacting with the characters and the world around him. Without Adam's ability to almost demand attention, this movie wouldn't have probably worked.
Up until the last act I wasn't sure, I wasn't sure if I liked this movie or I didn't. The ending made me so emotional though that I think there's definitely a lot about this movie that crawls under your skin. Almost unexpectedly. It's so simple and stripped down that it's hard not to like it. Is it the best of the bunch? No. But it was a good find from Adam's filmography.
FINAL THOUGHTS
I'm so glad I found a gem this month. It just shows that hard work finally does pay off. Hidden Gems Adam Driver was definitely one of the best months this year as a whole too. Adam himself is clearly one of those actors everyone needs to keep their eyes on. Now that he is hopefully free from Star Wars (is Kylo alive!?) maybe he could return to TV? Give me a show with Adam as a lead anything and I'll binge it with great pleasure.
As I said in the beginning there will be another Hidden Gems tomorrow. And while it wasn't as gem-worthy it was still quite the ride. All in all, I was just so damn lucky this month!
---
Previous month on Hidden Gems – SAOIRSE RONAN
Next up on Hidden Gems –  CHRIS EVANS
4