I'm back with another Double Feature post and this time I'm diving into Practical Magic and Hocus Pocus. Saw these back to back about a week ago and just had a great evening. I've seen them before, more than once. But sometimes it's good to just return to movies you've seen and know what you're going to get. That's the joy of Practical Magic and Hocus Pocus – they are my comfort movies.
Minor spoiler warning.
Pretty sure these two movies don't need much of an introduction. Practical Magic and Hocus Pocus both are 90's classics that are still beloved. I'm sure both of these movies get new fans every year when they are shown during October. But in case you do not know the common theme in this Double Feature is of course witches.
Besides fae who definitely don't get represented enough in movies or shows, I love witches! They are so versatile and can end up in either side of the spectrum: good or evil. Plus the magic can be anything, herbs, spells, necromancy – the options are endless. And here are two movies about witches, one where they are good guys and one where they are not.
The movie begins with an introduction of a curse of the Owens women. Every man they love will die. This goes on for centuries until we meet our main characters. Two Owens' girls, Sally and Gillian, portrayed prospectively by Sandra Bullock and Nicole Kidman, become orphans. Their dad dies because of the curse and their mom of a broken heart. Sally and Gillian go to live with their aunts in a small town. Nobody really likes them there because they think they're evil witches. This movie is based on a novel and it is directed by Griffin Dunne who plays Nicky Pearson in This Is Us.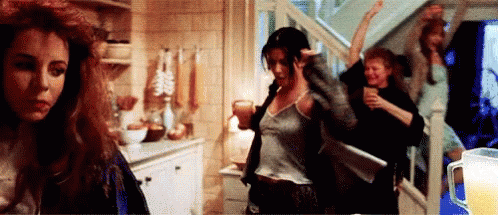 Lots of other things happen but the main plot of the movie is about Gillian's violent boyfriend portrayed by Goran Visnjic. He is possessive and doesn't let Gillian visit her sister who is going through a rough time. She flees but then he shows up and Sally accidentally kills him. They try to resurrect him but well… you can assume how things go from there.
The movie has a lot of iconic moments like the "put the lime in the coconut" dance during midnight margaritas. Lovely tradition I would gladly have in my cool witchy house if I had one. It also has many girl power moments and the way the final showdown takes place is cool. And the movie ends with a really nice scene. But as I said there is another plot that takes place here which I don't want to spoil unless you haven't seen the movie.
This one starts way back in time when three witches kidnap a little girl. They want to stay young which means making a potion, feeding it to the girl and sucking the life force out of her. Her brother shows up but is unsuccessful in the rescuing attempt. Yet the witches still end up burned at the stakes and they die right after a curse is put on place. If at one specific night a virgin will light the black candle, they shall return until sunrise to finish their mission.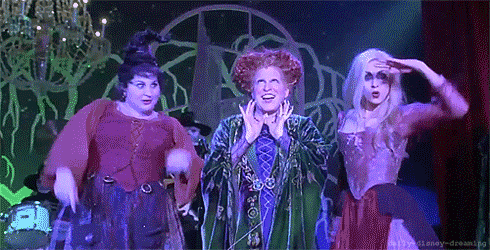 Here we have Kathy Najimy, Bette Midler and Sarah Jessica Parker as the three sisters aka our villain witches. While Midler here is amazing and utters a few of my favourite quotes, Parker shines just as amazingly. She doesn't say much here but she has some great small moments. Plus the blonde curly hair and red lip – goals! Najimy is solid supportive role here but that's given with her. To take advantage of Midlers great voice Hocus Pocus also has a musical number that is catchy as hell.
Anyway, as you can probably tell a virgin lights the candle and the witches come back into the 90's. Unfamiliar with the time period there is some comedic relief scenes, eating children gives some horror moments but generally it's a kids scary movie – easy and entertaining.  Which is why it's no surprise that Hocus Pocus 2 is in the talks. Adam Shankman is said to be directing and it's going to come out on Disney+. The last part scares me a little but there is hope all three sisters will revisit their parts again so at least there's that. Now I just hope they won't ruin the first movie by making a super crappy sequel.
3