Me and grumpy-Jake bring you some holiday cheer and hope you all enjoy Christmas! Though it is custom to give gifts to each other, I'm giving you a Commercial Break instead. It's partly because I would have no idea what to get to you guys and partly because I have tendencies to ramble way too much for my own good. So, Merry Christmas! and happy reading!
CHRISTMAS
Not many Christmas related news but there have been some tiny event-like situations. I made gingerbread cookies and decorated them for hours. Being a perfectionist with a taste for visual style, decorating cookies isn't the easiest task but I wanted to do something festive.
Speaking of festive, it's snowing! I can't believe it because the weather reports all said it will start snowing on the 27th or just after Christmas but they were all wrong!! It just kept snowing and snowing and that meant shoveling snow, throwing snow and tasting snow after my mom hit me in the face with a snowball – for a person who dislikes snow, she sure enjoyed that part!
Last but not least – I've been drinking a lot of cinnamon tea and mulled wine. The tea is because I've woken up with a sore throat for couple of days now and the mulled wine is just for my personal pleasure. I'm not the biggest fan of heated wine but it is fitting for Christmas time and since we don't have a Christmas tree this year, steaming hot alcohol is the closest I'm gonna get to a warm and cozy holiday feeling!
LIFE
On other news, there's not much to report on since I've established a state of hibernation, and there are many reasons – mostly television related reasons. I tried to go outside the other day so I went to a shopping mall and I was literally bothered by everything. I just don't get how people can moan and whine about things being expensive and not having enough money and then buying presents left and right. Your 5 year old doesn't need an iPad!
Shouldn't be negative though, it's the holiday season, it's a happy time! Though the only thing that would make me happy would be a new laptop since my current one is slowly quitting on me. The battery is gone for good and the charger has been broken for months now. While I can deal with the charger by taping it to the table using band-aids (you would think it's stupid but admit it, I'm a genius), I cannot deal with the broken speakers! Not a fan of headphones either so my laptop really knows how to piss me off but I have to suffer as long as I can.
MOVIES
I haven't seen a lot of movies lately because I didn't watch anything for almost two weeks. It's the longest dry spell in a long time but since I have been all about the TV shows lately, I'm not missing movies that much. Did watch The Skeleton Twins though, but wasn't thrilled about it. Revisited Love & Other Drugs and loved it more now since my Jake Gyllenhaal high is still happening – probably going to watch Enemy and also re-watch Nighcrawler this week.
More shocking news, I might have to get excited about Fifty Shades of Grey because I'm also on a Jamie-high and yes, I have multiple simultaneous highs because why not!? For me, being on actor highs is a daily/weekly thing, Gyllenhaal one moment, Dornan the other, I'm easy like that. But like I said, Dornan might have enough power to make me watch that awful film. How do I know it's going to be awful? Well, for one, somebody decided to shave off Dornan's scruff. Without it he doesn't look at all appealing, with it, he looks like he is going to eat your soul & pussy and since it is the main point to Mr. Grey, the movie's going to be awful.
TELEVISION
The Fall people, The Fall!! I mean, that moment when a show ends and I simply stare at the screen for 10 minutes has to mean something, right? Because I was baffled of what I saw, I was also extremely sad and thrilled at the same time. After I recovered, I had to put it all down and this happened. I'm quite proud of it because I was almost able to express all my thoughts and it isn't that long. Though it's quite long.
Also would like to mention The 100. So many of you probably don't even watch it but I don't care! I like it so much and I might even rewatch the first season. I like the sci-fi element, I like the sort of dystopian feel and yes, I love the tall dark handsome Australian actor Bob and I even like that his name is Bob! And sure, like with every CW show there are always some questionable plot decisions but I mean, the mid season finale event was surprisingly amazing! If you watch the show and have seen the last episode, and want to read my thoughts, I rambled about it here.
In between my break from the Gilmore Girls (I stopped after season 5 because it's downhill from there), I started watching In The Flesh and oh my god! There's so much to talk about it but it's easier to just go here.
BOOKS & MUSIC
Started a new book and then set it aside with fear because I have too many unfinished books! Any of you start a book, get through some chapters, discover a new one and then continue this process for 4-5 times because that's how many books I have started and not finished. I think it's a really bad habit, it's similar to the one of not filling in the entire notebook but still buying a new one. Sometimes I think I'm just a walking around with just bad habits floating around me.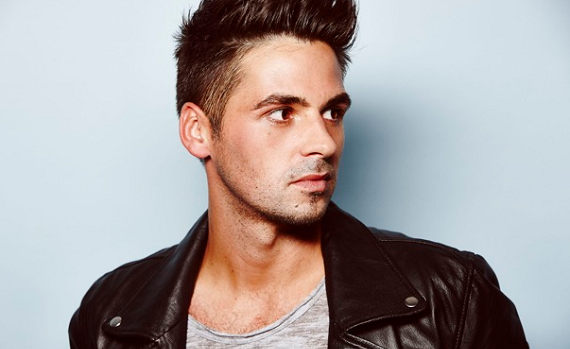 Ben Haenow won The X Factor UK. I'm not surprised, he was good and I like him a lot. It's just a shame that they will try to change him and his image. Like, he only talked about his girlfriend in the beginning of the show because they probably told him not to mention her since single artists get better female attention. What a shame. His single is great though and I don't mind the changes, the original is a little bit depressing.
LINKS
Three Rows Back reviews 71′ starring Jack O'Connell and I'm so excited!
Katy from Girl Meets Cinema shares her favorite fangirl moments of 2014.
Blind Spot Series is my enemy but with her great list, Sofia from Film Flare will succeed for sure!
Speaking of Blind Spot, Big Screen Small Words finally saw Memento.
Parts Per Billion is reviewed by Rambling Film.
43 Things To Love About Punch Drunk Love brought to you by Alex from And So It Begins…
0