Way back in February, when I had a lot of time on my hands, I wrapped up January like a champ. Then, I sort of forgot about it and now I'm bringing the wrap up back. In other words, I'm wrapping up the entire month of June – from movies to shows to books to songs! With a bit of commentary on each of the things I saw, read and listened, and links to possible reviews and such. So take a look at everything I experienced in June, and apparently, there was a lot!

Across the Universe Podcast had one episode up in June, with a guest appearance from Katy from Oh So Geeky. We talked about our most anticipated Summer premiers, and there was a lot to talk about!
We also recorded an episode about Ocean's 8, but that didn't go up in June. Which is why I haven't posted my review of it yet, even though I angry typed it in an hour or so. I guess I spoiled my opinion about the film but honestly, were we really thinking that I liked it?

I saw 12 new movies, then rewatched two of those movies, and rewatched two older favourites as well.
LOVE, SIMON (2018); watched on June 3rd, rewatched on June 23rd
There are no words to describe my admiration for Love, Simon. Which is why it's hard to review it, even after two viewings. This movie means a lot to many, including me, because I've missed young adult movies. Especially adorable ones with great characters. Nick Robinson as Simon is perfect as this shy, yet sarcastic teen keeping a secret that he's gay from his family and friends.
GOD'S OWN COUNTRY (2017); watched on June 17th, review coming soon
Another one of my favourites from June is this 2017 coming of age movie. It's no coincidence that one of the main themes of this movie is also sexuality, because I gravitated a lot towards these movies during June – known as Pride month! The fact that I ended up loving this quiet and very minimal story of two men coming together against all odds, was just a bonus! And unlike Love, Simon, I was able to express my thoughts about it easily in a review, and that will be up soon.
HEREDITARY (2018); watched on June 26th, review coming soon
While it wasn't a solid five cup rating, I ended up liking Hereditary a lot. It had a very eerie story, with a nice build up to its final act and the unique audio visual presentation. Toni Collette, who seems at ease within any genre, delivers a complex role and shines bright among the rest of the cast. Though I did have some negative thoughts about the film, I was mostly impressed. Besides, it proves that my slow and steady exploration into horror genre is going well!
OCEAN'S ELEVEN (2001); rewatched on June 22nd
After watching Ocean's 8, I wanted to rewatch and enjoy the 2004's Ocean's Eleven. I was not disappointed, but that was given, since I love the first movie in the trilogy a lot. It is well written, quick and smart, plus almost the entire cast gives their best performances. Clooney and Pitt share an unique chemistry, and the heist itself is perfectly entertaining.

ALEX STRANGELOVE (2018); watched on June 11th, rewatched on June 14th, review coming soon
Since I watched this movie twice last month, you can be pretty certain I liked it a lot. It's a happy-go-lucky film of a guy, who becomes very confused about his sexuality. The vibe of the film is positive, supportive and genuinely nice. We need more movies like this, and frankly, the fact that it's on Netflix works for Alex Strangelove perfectly. And even though I have never heard of Daniel Doheny, who plays Alex, he is brilliant. He can also play Andrew Garfield's brother and everyone would think they're actually brothers!
OCEAN'S TWELVE (2004); rewatched on June 22nd
Right after watching Ocean's Eleven, I watched its follow up. Now, while I think it's definitely not as strong as the first movie in the trilogy, I still enjoyed it. The sequence were Vincent Cassel's character dances through the laser field is my favourite! The music, the tempo, the playfulness of that scene alone is worth at least a star! Even if the rest of the movie stumbles a bit, it's still entertaining and fun.

SET IT UP (2018); watched on June 15th
Another Netflix film I watched this month was Set It Up – a romantic comedy with two very ambitious assistants setting up their bosses. While the plan works, and the movie does have a few fun moments, it's simply bland. There's nothing memorable about it, and there was nothing I could gush about at the end of the film. That being said, it's not necessarily a bad film either, so I guess it's mediocre.
LEAN ON PETE (2017); watched on June 24th
Saw this film praised, and thought I'd give it a go. While the premise seemed interesting, and the movie delivers a very solid performance, I just didn't connect with it. I was disturbed by certain events the movie entails, which threw me off completely and I ended up disliking the las third of the film.
JUST ONE OF THE GUYS (1985); watched on June 25th
Yes, you are seeing correctly – I watched an 80's movie and no, it wasn't for the Blind Spot series either. I was simply browsing on Netflix and saw this one, decided to watch it and ended up being genuinely entertained. The plot is definitely familiar (She's the Man probably borrowed from this one a lot), but the actors are completely unknown, which made it an interesting experience. Biggest surprise – the boob shot at the end, that came out of nowhere.
IBIZA (2018); watched on June 25th
This movie actually deserves less than a cup but I'm giving it more because Richard Madden looks delicious in this! He has his own Scottish accent, he is a bit nerdy and shy, and he takes his clothes off at some point. You really can't go wrong with this one. Though the movie, the plot and THAT ending – fucking ridiculous.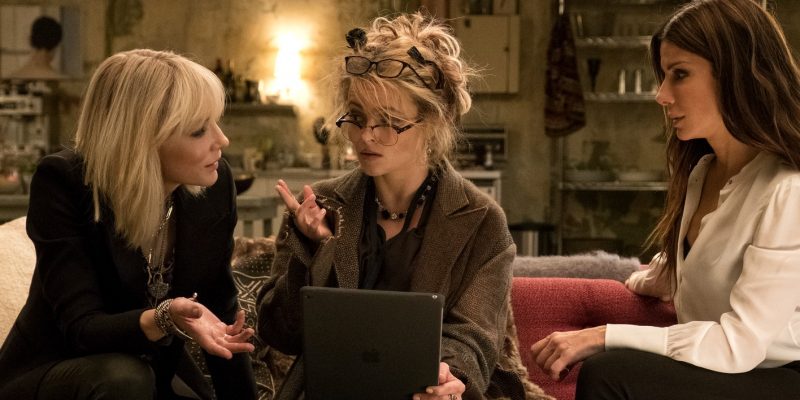 OCEAN'S 8 (2018); watched on June 15th, review coming soon
Well, what did you expect? I think part of the low score is the fact that I did expect a lot more from Ocean's 8, and got almost nothing. The movie was rushed, and the script was empty and shallow. The biggest disappointment was the twist and the "double job" angle. Both left me unimpressed and frankly, a little angry.

HOTEL ARTEMIS (2018); watched on June 11th, reviewed here
This was not even worth the entire cup, and I gave it half a star on Letterboxd. Hotel Artemis was a complete waste of my time, and I still spent more time on it by reviewing it. You can read it and you can make your own conclusions. I just don't want to think about this movie anymore.
BRICK (2005); watched on June 13rd, reviewed here
My Blind Spot pick for June was another disappointment this month. I disliked pretty much everything about this movie, the way the script "flowed", the way it was shot. It was simply too experimental, or artsy, or whatever you might call it. I'm aware it has its fanbase, and I completely respect everyone, who loves Brick, but I just can't even seem to like it.
A CHRISTMAS PRINCE (2017); watched on June 23rd
I avoided this back in December of 2017 because I didn't think it was good. I was right to think so because this movie was awful. Sure, it was predictable, which I expected but the main guy looked very unappealing to me as well. I'm sure I would have liked it more, if for instance, Richard Madden was playing the prince… that would have been so much better.

Watched and rewatched 8 full seasons of various shows, and finished two weekly shows.
Not rated but ranked from best to worst. 
THE HANDMAID'S TALE (2017-…); binged Season 1, review coming soon
Wow. I'm finally on The Handmaid's Tale bandwagon and I never want to get off. Part of me wanted to binge the second season right away, but I figured some distance would be healthy. This dystopian series is scary for its believable take on a possible future, and the acting is superb everywhere you look. The cinematography kind of paints a beautiful painting in the middle of a horrible story, and I was loving it from scene to scene. Can't wait to continue with this series.
KILLING EVE (2018-…); binged Season 1
While I also enjoyed Killing Eve, it's harder for me to imagine gushing about it in a review. It's hard to describe, but the only way to express my opinion about is to say I enjoyed its dark humour. There is an almost joyfulness placed upon Eve, a hired assassin, and it's scary yet entertaining to witness her at work. The performances are very good, Sandra Oh is great, but Jodie Comer steals the spotlight easily.
THE GOOD PLACE (2017-…); binged Season 1 & Season 2, review coming soon
Surprise, I finally gave in and tuned into The Good Place and then binged it entirely. This show is weird and quirky, but it's also very funny. The characters are so interesting and the twists and turns this show takes are simply put perfect. The way each season carries itself towards a new season, which is completely different, makes me love this one even more. I have nothing bad to say about it, or maybe just the fact that each season is way too short for my liking.
OUTANDER (2014-…); rewatched 50% of Season 1
Though I didn't really manage to finish the rewatch of season 1 in June, I wanted to add it here because it was an important rewatch. It spiked my love for Sam Heughan again and that makes two Scottish dudes in one month. I'd say that's a pretty big statistics.. I would also tell you that I'm going to Scotland in October, and that trip might be dangerous for me.
THE 100 (2014-…); rewatched Season 1
I want to get to the later seasons but I'm now, after binging on season 1, stuck on the second season. That's not where I stopped, I quit somewhere in season 3, but it's still hard to continue. I will at some point though, because I've seen some stuff going around on Tumblr, and I want to catch up to those things.
THE GOOD FIGHT (2017-…); finished Season 2
Oh boy, The Good Fight is so good it's actually making me watch something every week! In June, I got to watch the last episode (because I was a bit behind), and it was sad and good at the same time. The thing is, I'm rooting for some of the characters and the show is making it impossible to love them. It's torture. But the show is still really good!
iZOMBIE (2015-…); finished Season 4
Since the next season will be iZombie's last, I went into the finale of season 4 with hopeful thoughts. While the entire season was rocky and had a few bumps it never overcame, iZombie is still an enjoyable show. I'm going to miss it when it wraps its brain eating craziness. But I'm going to be happy because this means the show can stop killing off Liv's boyfriends! One time, fine, twice, I'll forgive you, but three times and I'm seriously angry. (I think there was a fourth but I can't be certain).
QUEER EYE (2018-…); binged Season 1 & Season 2, review coming soon
This show is a good way to kill time and it's funny. Sure, there are things that bother me a lot about this show, like Jonathan's inability to keep a man's beard! But it has a good heart, it has a couple of amazing stories, and it's trying to promote acceptance. Nothing throughout two seasons came close to the first episode's perfection though, that was a tear jerker all the way!
9-1-1 (2018-…); binged Season 1
I have no idea what the hell 9-1-1 was, but I kept watching for just that one character arc. This show is created by Falchuk and Murphy, but it reads like something created by complete novices. The show has a weird flow, it has weird acting (Peter Krause is brilliant, yet he is lost in this), and it's just so odd. Plot is there, I mean, the ideas are all present, but I can't believe this gets to stay on air and TIMELESS doesn't!!

I finished 8 books, of which 3 were rereads, and I also started 2 books.
Includes links to my Goodreads reviews.
The first book I read in June was Simon vs. the Homo Sapience Agenda aka Love, Simon by Becky Albertalli. This was a reread for me and I enjoyed it a bit more the third time around when I did for the second and first. The book itself is good, the movie based on it, is good on its own but the two compliment each other well too. After this, I was still in the mood for love, so I picked up Helen Hoang's The Kiss Quotient. This was an interesting read, but I'm already starting to forget this book, so not the best.
The mood for romance didn't stop there, and the next new release I picked up was Morgan Matson's Save the Date. This one was better that my previous experiences with Matson, but it was still a little too naive around the edges. Same with the next read, Love, Hate & Other Filters by Samira Ahmed, which I enjoyed while reading, but not so much now. Both books are forgettable, yet both books got 4 stars from me – which makes them quick and easy reads.
Another YA reread for me in June was Kodi Keplinger's The Duff – which I've read many many times. This time though, I started to dislike it a little bit, and I'm actually considering my love for it. Sure, the main premise of the book is still great, but the reasoning becomes very flimsy after so many rereads. That's when I picked up An Ember in the Ashes by Sabaa Tahir and threw myself into its fantasy world. I loved it, I also loved A Torch Against the Night, which I picked up right after. I did pick up the third book in the series, but I'm pacing myself with it because the fourth one is not released yet.
Last but not least, I reread The Cruel Prince by Holly Black and was blown away again. I read it first in January, this year, and I already wanted to reread it, which was a bad idea because now I have all these feelings resurfaced. My review for this book is very emotional and I will try to add something more coherent there soon. I also managed to pick up The Fill-In Boyfriend by Kasie West for a reread on the last day of June.

It's hard to wrap up June in terms of music because I rarely log the songs I love. Starting from July, I will try to do so, including with shows because man, it was hard to remember all the shows I watched during the entire month. But anyway, I know at least two songs I listened to in June that I was obsessed with, so there in this list. As for it being just two songs, well, I honestly can't remember any other song right now but I'm sure there were more!
GoldLink – Got Friends ft. Miguel
Maroon 5 – Girls Like You ft. Cardi B

Not just June links, but simply put, just awesome links.
Returning Videotapes's June Blind Spot pick was Paths of Glory
Cinematic Corner reviews Westworld's second season
Rambling Film shares another Indie Gem Stand By Me
Two Dollar Cinema pretty much boos Hotel Artemis
Oh So Geeky ranks all Ocean's movies
A Film a Day reviews Blockers
Big City Bookworm wraps up June as well
2