As you can probably tell by the title I'm gathering up ALL the shows I watched in 2020. Not just the full on TV-shows but also miniseries and documentary miniseries as well. There's going to be A LOT of different things here which is why it's also divided into two parts. It's not technically a worst to best list but Part 2 will contain 15 of my favourites. The main idea is just to show you guys that I watched a lot of things last year but I didn't really write about them. Also it's a great way to ignore the Best of 2020 lists for a little while longer.
I guess we're starting off with crime documentary series (docuseries) and I saw quite a few. They were my favourite things to watch during the first wave so I caught up with many I had missed. The Staircase is actually something I had partly seen before but it got additional episodes in 2018. It follows the high-profile murder trial of American novelist Michael Peterson following the death of his wife in 2001. The docuseries is a bit slow, its running time definitely a bit dragged out but it's interesting to see it all from Peterson's perspective. There's also a strange mix of suspicion and doubt about it all, a true crime lover would definitely find it compelling.
What a wild ride from start to finish. While I think Netflix drags out these docuseries and adds one additional episode to most of these, Don't F**k With Cats almost felt like it went by too fast. Internet detectives is a strange concept but I guess nowadays anything is possible. The horrible cat videos… I mean you don't see anything really but just the idea of it made me boil.
Not going to lie, I cried during a few of these. There are all together 20 death row inmates who tell their story, season two featuring female prisoners as well. It's harrowing and it does affect you. For some you feel sorry for, some you want to avoid at all costs. These people, these killers are all so different yet they are faced with the same reality. Some episodes are better than others so if you don't want to watch all 20, I recommend Family Affair (1.7), Trapped (2.4), Pyro Joe (2.6) and Sympathy for the Devil (1.4).
It has two seasons but one was released in the summer, the other in October. I haven't seen the second season yet but I will. This is a remake of an older true crime show that followed unsolved cases and helped to solve some over the years. I heard the show already has received some new information about a few cases. House of Terror (1.3) is probably the strongest episode and honestly deserves an entire series. It's about the French family who was found dead in their home not long ago, the father is the prime suspect but has gone missing.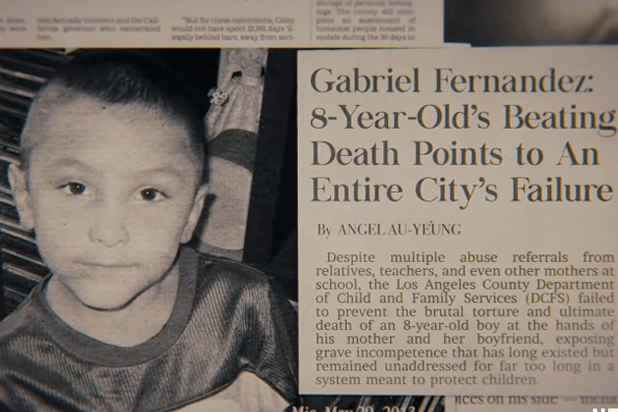 This was so sad and I'm still very emotional about it. It's a docuseries about a little 8yo kid who was relentlessly abused and then murdered by his mom and her boyfriend. It's a horrible reality that not everyone is loved and the system there to protect them is no better. So many warning signs, so many possibilities to save this kids life and instead we have this emotionally draining docuseries about his murder trial.
This is a must for any true crime lover since it explores the aspect of media. In our modern media landscape where real courtroom dramas have increasingly been transformed into a form of entertainment, this series reflects on some of the most dramatic and memorable trials in recent history. The first episode is very strong, second is good as well but some are weaker as they tend to be. But it's interesting to see the progression of crime-media as well as its manipulative ways.
Not the most memorable I watched last year but still another great example of a fucked up system. In 2013, Massachusetts State Police arrest 35-year-old crime drug lab chemist Sonja Farak for tampering with evidence: and that was only the beginning. It only has four episodes and it gradually builds up to a strong finale. But again…  it irritated me to my core. And I'm not even American so… fuck.
This one is probably one of my favourites. Partly because there is a subtle hint of sorrow that is coated over this story. This is a three-part documentary series examining what led to the murderous fall and shocking death of former NFL superstar Aaron Hernandez. He is a killer, not a lot of doubt about that.. but there are subtle details that make you wonder about the aspects that lead him to such a terrible faith. His fiancée didn't like that the documentary brought up his sexuality, which I get. He is not here to talk about it or allow it himself but I also understand how it was needed to give context. Plus it was clear it affected his life.
It doesn't ask for sympathy per say but honestly, I felt it. It's so easy to see killers and murderers as awful human beings, which they are, but not all are born killers. Some are made and some have things happen to them that will add fuel to the flame. So this definitely makes you think.
This five episode docuseries is another fine example of a messed up system. If I remember correctly police officers and detectives were quick to dismiss cases if Henry Lee Lucas confessed. It was so easy to pin everything on him. For years he was known as America's most prolific serial killer, admitting to hundreds of murders, but, as DNA results contradict his confessions, will they expose the biggest criminal justice hoax in U.S. history?  Well looking at it now you'd think how is this possible… yet, it was possible.
I feel like the entire 2020 was hitting me with the head with injustices that happen in America. I'm glad it did but it hurt a lot. It is frustrating and it is beyond irritating to watch The Innocence Files but it is very important! This 9 episode docuseries is about cases of wrongful conviction that the Innocence Project and organisations within the Innocence Network have worked to highlight and overturn. The Innocence Project is so-so important! Yes there are bad people in prisons BUT there are people there for no reason just because the SYSTEM IS FUCKED. Don't even get me started on the people who have been sentenced for life for a crime that, oh, let me see, a white person gets a much lighter sentence for. Again, this is a very important docuseries to watch, especially after 13th and When They See Us.
This came out weekly so I waited and binged it when I could. It's about the Golden State Killer and its great. What HBO does here better than Netflix is the lack of empty episodes. It doesn't drag as much BUT I must admit, I didn't like the narration of a random woman as Michelle McNamara who sadly passed away before finishing the book the docuseries is based on. It felt like a voice beyond the grave and I get it, it was a decision they made and they even added these stock shots to accompany this but it felt too much like those acted true crime shows on one of those broadcast television channels. I get its importance to give us her thoughts and her blog posts but it for me it felt strange and sad. Otherwise this was great and a definite recommendation!
Besides true crime docuseries I also watched a few other documentary series on Netflix (I also watched a lot of documentaries in 2020 too, far more than usual). (Un)well is a six episode docuseries about alternative medicine. Basically this docuseries takes a deep dive into the lucrative wellness industry, which touts health and healing. But do these wellness trends live up to their promises? Each six episodes focuses on s specific topic: essential oils, tantric sex, bulking with breast milk, fasting, ayahuasca and bee sting therapy. Not everything was interesting and some of them felt like almost commercials with a few side effects warnings.
But for me essential oils and ayahuasca were the standout episodes. I feel like ayahuasca could have had a 4 episode series on its own, it seems VERY dangerous and weird so I'd be willing to watch four hours worth of people describing their visions. But what this docuseries fails at is the depth of the topic. Nothing explores anything past a point which makes it feel shallow.
Six episode docuseries about the evolution of video games was definitely an interesting watch for anyone. Even those not fans of video games and its evolution. It doesn't come very close to the modern times but mostly stays in the past and ticks off all the video game genres nicely. I found out some new things and it raised my interest. Though I feel like some aspects aren't well or not at all approached here it's a good introduction to video game world. For those who want to learn more there are probably a lot more in depth stuff out there.
This was a very strong docuseries about the world of cheerleading and showing how brutal it is. Now months after its release one of the big stars of it was arrested in September. He has federal child pornography charges and there are allegations that he solicited sex from minors. So that sort of ruins Cheer for me but I did like it while I was unaware of all of this. It just shows how fucking hard these kids work for one shot. It's mind blowing how competitive it is. It snagged up 3 Emmys too so it is good. But yeah, it now has a dark cloud over it.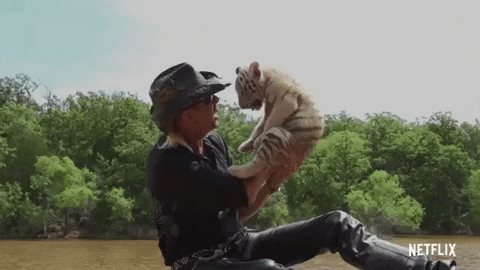 Eight episodes of murder, mayhem and madness, that's what Tiger King turly is. I wasn't sure if it was a crime docuseries but I guess it was a mix of everything. There's now going to be a movie about it as well, what a strange world we live in. There's no doubt about the fact that this series has a lot of wacky stuff happening which is hard to explain to anyone unaware of this. So in case you somehow missed the madness last year, I'm sorry, I'm not going to even go for a summary.
I guess I'm leaving the best for last in terms of docuseries because 16 & Recovering was brutally beautiful. It is about addiction and a school made for recovering teen addicts. It is heavy, hard and painful throughout. To see these teens in the school setting throughout the week and then know that anything could happen during the weekend… it's just devastating. Five episodes and you care about these teens, you want to help them but they need to help themselves. And that is one of the hardest things to do. Not sure if it's getting a second season but if it is, I'll be tuning in. I want to know if they are alright!
So I'll tie my docuseries into series with the only reality show I binged from start to finish. The USA's version of The Circle had a lot of talk around it so I figured why not. The start was shaky but it got very interesting and I actually enjoyed it. Not sure if I'd watch it for like seasons and seasons but the first one was entertaining enough for me. Unlike RuPaul's Drag Race and its 12th season which I stopped watching midway through.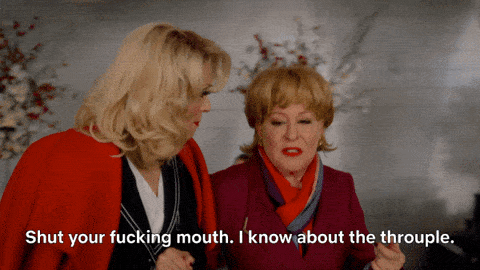 The first season of The Politician was good and the second had some great moments as well. There weren't many shock reveals here though. After the first season's shocker I'm hardly surprised anymore though. While the second season wasn't as strong I'll still keep up with this show because I'm invested. A few characters are very good and the LGBTQIA representation here is great. Oh and Bette Midler in season 2 was definitely the highlight so I think just for her, watch it!!
I binged both seasons last year and it was alright. Definitely not the best but not the worst either so it worked well last year as entertainment. Sad it was cancelled since it had something going for it but now if I think about it I'm not sure how it ended. There might have been a cliffhanger but nothing like Santa Clarita Diet or Kyle XY so… I'm okay with it. But as far as supernatural series go, it is sort of a mix between The Magicians and Sabrina. There's a lovely Jason Priestly and Ian Ziering bit in it that is almost too hilarious for this show.
A Netflix show that only got one season and partly because it was not good. I reviewed it as well so you can read more of my thoughts here. Bottom line is I hoped so much more from it but it was just a disappointment. I feel like there's not much else to say about it.
This is a Swedish show about a married woman who starts to play a dangerous game with a young man. It's a little strange, has some wild dares but she gets the bolder ones in my opinion (which is lame). While it didn't really spark love in me it was still an interesting watch. I'm watching a lot more non-English shows in recent years and so I'm glad I tuned in for this one. Probably going to tune in for the second season as well.
This 11 episode fantasy show is very… meh. It has some interesting plot points and the idea of something embedded under your skin is great but it's meh. There are moments that I remember well but most of it is wiped from my brain. While I wasn't thrilled about it I guess I want to see what happens? I don't know why though, that's a strange feeling. Oh the setting in a non-English place while being all in English was a bit of a shitty choice.
Two seasons worth of Shrill and I keep forgetting I've seen it. This is a show that falls into the unmemorable category for me. I do remember there is an asshole boyfriend in this who annoys the shit out of me so at least there's that. While I think the representation is great and it's rare to see a plus-sized woman as a lead, it's also not worth to tune in for just because. I feel like while it's a good show, it's not a show for me.
This got cancelled after season 1 I think (too lazy to check). Does it count as a miniseries then because some I saw this year were categorised as such despite being pitched as a series. Anyway this is about Daimon and Ana Helstrom who are the son and daughter of a mysterious and powerful serial killer. The siblings have a complicated dynamic as they track down the terrorising worst of humanity – each with their attitude and skills. It's weak and they didn't really capture the tone of the plot. Was not a fan and I'm not surprised it got axed.
This is an adaptation but I'm not familiar with the source material. As I've heard the adaptation is a lot more PG which is a shame. I hoped for a Stranger Things level of scary from this. Some elements of horror or something. I ended up being disappointed yet again. I also reviewed this one, you can read my full review here.
Another new up and coming show this year was Love, Victor which is obviously a spinoff of Love, Simon – a movie I love very much. While I liked it and it had a lot of good elements, Love, Victor sort of fell into the not memorable pile for me a little. Not that it is not memorable, it is. But among ALL the shows I saw this year, it took the backseat. I still like it a lot though. You can read my full review here.
This is the first miniseries I'm mentioning and it is probably the most disappointing to me. Not that it's the worst, I saw another one that was a bigger let down but this was almost differently disappointing. Nicole Kidman and Hugh Grant are great here but the damn second half was just a mess. There was no thrill left by the middle and for me it ended up being way too predictable. Definitely needed and wanted more from this. Though better than a lot of shows I saw this year, I did have higher expectations of it so hence it not making it to my top 15.
So I went back a few years and watched a miniseries called Residue. It was supposed to have more seasons but it sucked so miniseries it is. It's concept is very 2020 – a virus breaks out and half a city is put into quarantine. The execution and script are weak and if I didn't have to watch it for TMP I probably wouldn't have even ended up seeing it.
Similar to Residue I watched The Kettering Incident for a Thursday post and this one was a little different. It was also supposed to have two seasons so it leaves us on a cliffhanger.  Yet it doesn't really bother me because the ending kind of ties everything together. Elizabeth Debicki is good but the script is a little haphazard with some storylines. I wanted more but I'm glad that I got what I got. An interesting premise and a special setting: it was filmed in Tasmania (this was its first adult drama filmed there).
I'm leaving this as last here because I didn't watch a lot of broadcast television shows this year and this was one of the few. It is a spinoff and has Rob Lowe and … I liked it. It's not riveting TV or anything like that but it's entertaining and there's an element of joy to it. Lowe is so good here and there are moments where you just are sucked in. It's not my favourite television show, no, but I'm still hooked. Just like I was with 9.1.1 for a while which I've now decided to dump for this one instead. I can take one cheesy FOX at a time, okay!?
---
Part 2 will be up next week.
3