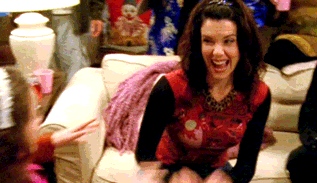 All is right in the world, and Gilmore Girls finally gets a chance to tie up loose ends properly! I'm far more thrilled about this than I have been about any other revival on TV since this trend started. I can't wait to see all four 90 minute episode-movies with all the familiar faces! To hear that typical Gilmore banter, to cry because I know I will, and to smile with pure happiness. All's good in the world! But I still have some expectations, and here are five things that absolutely need to happen during the revival.
This list could be much longer, but I already know some great news about the revival so I can cross out some of those things. Lauren Graham and Alexis Bledel are returning, including Kelly Bishop, Scott Patterson, Sean Gunn and Keiko Agena. Plus, I'm pretty sure many other Stars Hallow residents will return as well. The original producers are back! Amy Sherman-Palladino and Daniel Palladino return and fix up what was messed up with the last season, which they weren't a part of due to some stupid issues, I'm sure. And of course, though the news of revival is still fresh, the filming is set to begin YESTERDAY which means IT IS ALL HAPPENING AND I CAN'T EVEN!!
A FAREWELL TO RICHARD GILMORE
The revival is already bitter-sweet, as one of the most beloved characters portrayed by the late Edward Hermann won't be returning. Since there will be an eight year time jump, I'm hoping the revival will honor Hermann and I'm pretty sure they will. This show had so much heart, and Hermann definitely had the biggest one, so I'm already hoarding tissue paper because there will be tears.
MELISSA MCCARTHY MUST RETURN
Sure, McCarthy is currently busy with movies and her show, but I hope she at least visits her role as Sookie St. James for one episode. I can't imagine Gilmore Girls without her, and since her name isn't attached to the project, and there is a possibility she won't have time to do this, I'm still hopeful. I'm stressing this matter here as vital to the revival – Sookie has to be there! If not, well, I guess mentioning her would suffice but I cross my fingers for at least a 10 minute appearance from McCarthy!
PROBLEM FREE LORELAI AND LUKE
This one is a tricky one, because their relationship was always about those slightly angry, sexually infused arguments, but I don't want to see BIG problems. I want Lorelai and Luke to be happy, all their issues resolved, and no breaking up taking place. If we get only 360 minutes of Gilmore Girls, I want those minutes to be filled with those types of arguments that are followed by make up sex. Luckily the original producers are back and hopefully the mess that happened in the last season, will be overlooked and put in the past.
BABIES ALL GROWN UP, NEW BABIES ARRIVING
There were a lot of little ones in the end of the series, Lane Kim had twins, Sookie's household was filled with toddlers and who can forget Rory's half-sister Gigi?! So many little ones that should be now all grown up and I can't wait to meet them. Obviously I suspect maybe, hopefully, most likely, Lorelai might be also pregnant or trying to be? I think it might happen. I need it to happen. I'm 80% sure it has happened. Or will happen during the revival.
RORY AND… JESS !!!
I don't care about Dean, I don't care about Logan, just bring back Jess and all is well in the world! I think Rory will have a new love interest but I think, and I will be utterly crushed otherwise, she will still end up with Jess. Milo Ventimiglia needs to come back! He has to! There is no other way to do this, it is Rory and Jess in the end and that's it! If they will force us another relationship in the beginning, fine, I will be okay with it but if Rory does not end up in the arms of Jess Mariano, I will die. Well, maybe not die, but a part of me will definitely stop existing. Nothing else matters, really, this is what we all want, Rory x Jess = ♥♥♥♥!