The funny thing is, I had planned for a much simpler post. I had a number in mind, 15 and I set out to search for those 15. Then it turned to 30, and now there are 40 movies and this is the second part of that post because to fit 40 into a single post seemed just too extensive (part 1 here). But to clarify, I'm not 100% anticipating to see all 40, I'm simply curious about what's to come in 2016.
Order of this list is based on the release dates.
20
July 15th / dir. Damien Chazelle
Whiplash is still fresh in my mind so it's not surprising I'm keeping my eye on Chazelle. Add Emma Stone's and Ryan Gosling's reunion to this musical drama and you got me buying a ticket in a heartbeat.
19
July 22nd / dir. Justin Lin
Yes, I'm all in when it comes to Star Trek! This movie though, despite having an exciting writing credit, Simon Pegg, also has the change of directors, as J. J. Abrams has handed the job to Justin Lin.
18
July 29th / dir. Paul Greengrass
I have no idea what is going on with the Bourne franchise, Matt Damon did three movies, then Jeremy Renner stepped up and now Damon is back. And it doesn't even have a title so I'm not even sure if I'm supposed to be thrilled, but I am.
17
August 5th / dir. David Ayer
Just like Avengers, Suicide Squad has had a lot of hype around it. Not just the movie, not just Robbie, but many others from the cast stand out. So, the excitement is real, and though there are many comic book movies coming out in 2016, and the comparison factor is inevitable, I have high hopes for this one.
16
September 30th / dir. Peter Berg
This is an odd choice for me because I didn't expect to see Dylan O'Brien in anything not teen and not funny so soon in his career. But I know he has the chops for drama, so I'm not worried, just a bit surprised. Based on real life, it might bring some feelings on the surface.
15
October 7th / dir. Gavin O'Connor
With a cast that includes Anna Kendrick, Ben Affleck and J.K. Simmons, what could go wrong? The plot is a bit vague for me, and would actually like to keep it like that, because it sounds like a drama with some thrills.
14
October 7th / dir. Doug Liman
Of course there's more comic book movies this year, and I'm surprised that Channing Tatum got cast as Gambit. I don't know, I just don't see it but who knows, Tatum has a knack of surprising me as of late (his role in The Hateful Eight was actually good; his lip-sync battle performance as Beyonce), so maybe he'll knock this one out of the park.
13
October 14th / dir. Ron Howard
After the Dan Brown popularity explosion, Tom Hanks made The Da Vinci Code and Angels & Demons. I liked the first one, I guess I saw the second one but maybe not. Now comes Inferno, and I know nothing about except that Hanks returns as Langdon. Maybe it will be as mediocre as the first two, maybe better, maybe worse, but we'll never know before we watch it.
12
October 14th / dir. J. A. Bayona
Since I invested more time to books, I have invested a lot of it for Patrick Ness – A Monster Calls is his first screen adaption he himself has written. Nothing more needed, I'm already hooked and the only question remaining is whether I should read the book before I see the movie…
11
November 4th / dir. Scott Derrickson
This list seems to contain a lot of comic book stuff, and I'm not even surprised, I'm just thrilled! Doctor Strange is of course another Marvel addition to its universe and that's all you need to know. Oh and that Cumberbatch is Strange, but I bet everybody already knew that.
10
November 11th / dir. John Hamburg
Remember Along Came Polly and Meet the Parents? Because I do and I love those comedies, so it just happens that the man behind those comedies, John Hamburg, is bringing another one out this year. With James Franco and Bryan Cranston in the main roles, I have no doubt that Why Him? will be a fun movie.
9
November 18th / dir. David Yates
Are all the Harry Potter fans already freaking out? I am! Sure, I'm not thrilled to have Redmayne in the lead, I would have actually preferred a less known actor, somebody new and unknown but we'll see. PS: J.K. Rowling herself wrote the script and they have announced it as a trilogy already – amazing!
8
November 25th / dir. Yimou Zhang
Not sure how the mystery and the thrill about the construction of the Great Wall will translate on screen, but with Matt Damon, Pedro Pascal and Willem Dafoe I'm sure it will be great.
7
November 25th / dir. John Lee Hancock
I haven't been to McDonald's for ages, won't probably go any time soon either, but I would watch the origin story behind one of the largest fast food franchises in the world. Nick Offerman and Michael Keaton are in this one, and Patrick Wilson, Laura Dern and B.J. Novak.
6
December 9th / dir. ?
Though I haven't picked up Let It Snow, I sort of want to now, as a movie based on it is going to be released this year. John Green's stories are no strangers to screen adaptions, and though I haven't been a fan of the movies, I still have a strange interest towards them. This movie is going to be based on short stories though, so it's going to be a little different.
5
December 16th / dir. Gareth Edwards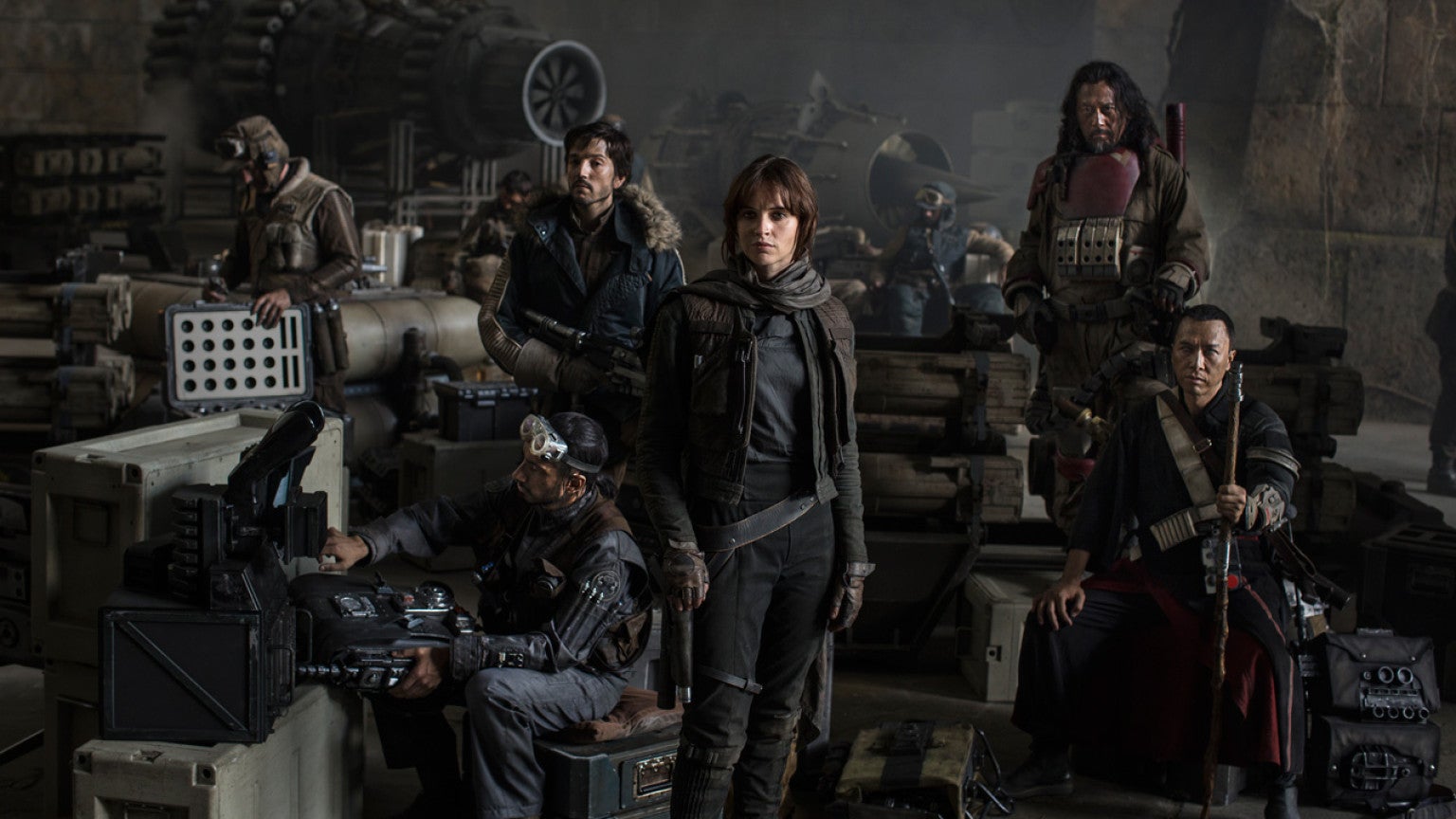 As I finally saw more than a half Star Wars movies, I consider myself as semi-part of the fandom myself. Won't go full-time, since there are too many fandoms I need to be included in, but part-time seems fair. So guess what, I'm excited to see the new Star Wars movie this year, but that's common sense.
4
December 16th / dir. ?
No idea who is behind this project, no writer or director is connected to the project on its IMDb page. The title simply caught my attention, and the fact that it might be a multi-plot-line movie, which reminds me of Love Actually, which immediately makes me curious about this movie. All speculation though, but we'll see in December.
3
December 23rd / dir. Morten Tyldum
Not a year can go past without at least one adventure movie set in space – for 2016 we'll have Passengers. What frustrates me, is Jennifer Lawrence, what excites me, is Chris Pratt and Michael Sheen. But nothing scares me as much as the guy behind the script, the guy who wrote The Darkest Hour – the only movie in the history of my existence, that I wanted to walk away from the theater.
2
December 23rd / dir. Justin Kurzel
No idea what to expect, no idea why I have added this movie into this list because video games turned into movies never works out as far as I know. But Michael Fassbender gives me a little hope, and Marion Cotillard as well. The rest, the rest is definitely not reassuring.
1
December 23rd / dir. Tim Burton
And at last, a movie based on one of my favorite reads from last year, and from Tim Burton! The worry is real though, as Burton has lost his mojo over the years and I keep waiting for him to go back to his glory days. So, I expect less CGI, and more actual sets, built to accompany the world Ransom Riggs wrote – please, please, don't over do the CGI!
______________________________________
And that is it for 2016 movies that come out and I might watch. The end of the year seems definitely less eventful than the beginning, but I'm sure we're still in for some surprises as well.
0