Last year, to celebrate my birthday, I made a list of 26 movie scenes from 26 years and it turned out wonderfully. And as a sucker for traditions, I decided to revisit this formula for this year, my 27th birthday (god, I'm old), and share 27 characters from the past 27 years that are lovable and/or intriguing, but more importantly, memorable above others!
MARTY MCFLY:          from Back to the Future II, 1989
How could you not love Marty McFly!? He is adorable, he is adventures and funny. Besides, Matthew J. Fox is a sweetheart and I pretty much adore all the characters he has portrayed, in movies as well as TV shows.
VIVIAN WARD:          from Pretty Woman, 1990
For some reason, Vivian Ward has always stuck with me. It also is impressive for a romantic movie to have a main character working as a prostitute. But Julia Roberts did a great job portraying Vivian and making the audience root for her, and her much deserved happy ending.
GEORGE BANKS:          from Father of the Bride, 1991
George Banks is definitely among my favorite movie-dads and mostly because of Steve Martin. There's just something about him, something lovable that just works, and Banks' character is especially most memorable among his roles.
MR. BLONDE:          from Reservoir Dogs, 1992
There's just something about torture, accompanied by a great song, that you can't forget. And Michael Madsen's Mr. Blonde had that unforgettable factor t and with that, he also had a very memorable moment in the Tarantino-universe.
MRS. DOUBTFRIE:          from Mrs. Doubtfire, 1993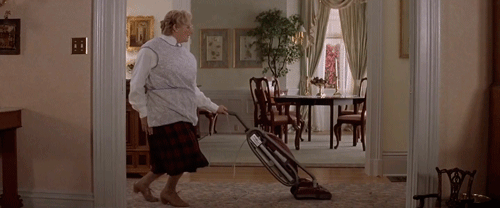 Mrs. Doubtfire is the one to remember! Portrayed by the forever loved Robin Williams, Mrs. Doubtfire is probably one of the funniest man-to-woman transformations I've seen but it's also a great story about being a father.
ANDY DUFRESENE:          from The Shawshank Redemption, 1994
Tim Robbins' Andy Dufresene is an innocent man thrown into a prison where he finds ways to cope with his faith. Not only does he improve the prison life for himself, but does so for others as well. There's also something amazing about the way he quietly works towards his goal for years. With such a great main character, I'm not surprised The Shawshank Redemption is still #1 in IMDb.
JEFFREY GOINES:          from Twelve Monkeys, 1995
Brad Pitt has a knack for characters with unconventional characteristics, and Jeffrey Goines is just one of those kind of character he has portrayed. As far as crazy people go, Jeffrey is definitely the craziest but that's a good thing!
MATILDA:          from Matilda, 1996
Matilda is such a great kid that it always makes me mad that she has such a rough time in the beginning of the movie. Mara Wilson is excellent as little Matilda, a girl who loves to read and is a little special.
DOLORES HAZE:          from Lolita, 1997
It is very creepy and strange to see an old man so affectionate towards a young girl, but there's also something dangerous about Dolores "Lolita" Haze herself. Dominique Swain looks innocent but she is much more than that, and Lolita is definitely one of those characters you never really forget.
DEREK VINYARD:          from American History X, 1998
Derek Vinyard is a character that scares the shit out of me. There is a particular scene in American History X that is so awful that it made me cringe and it's one of the reasons I love Edward Norton so much.
TYLER DURDEN:          from Fight Club, 1999
Another stand out performance by Brad Pitt is his Tyler Durden – and what more do I need to say? This character speaks for himself, every aspect of him is awesome and the fact that he is imaginary makes him even more awesome!
BILLY ELLIOT:          from Billy Elliot, 2000
Another inspiring child with a passion for dancing is Billy Elliot, portrayed by the lovely Jamie Bell. His character is so likable, and his determination to be good at something, that is not particularly favored as a hobby for boys, is so cool!
HARRY POTTER:          from Harry Potter & The Philosopher's Stone, 2001
Continuing with child-characters, I have to mention Daniel Radcliffe's Harry Potter. For eight movies, Harry Potter was an inspiration for many kids, teenagers and adults which is why his character makes the list without any doubts.
FRANCIS DOLARHYDE:          from Red Dragon, 2002
I'm adding Francis Dolarhyde portrayed by Ralph Fiennes to my list of characters because he is the first serial killer I recall to have found fascinating. Though not my favorite, he is still a character that most likely spiked my interest towards serial killers in the first place.
TRACY FREELAND:          from Thirteen, 2003
Thirteen is a special movie for many reasons, and Evan Rachel Wood as Tracy Freeland is among those reasons. A sweet girl, turned bad by peer pressure, does questionable things and though the characters feel a little older than thirteen, the point still comes across.
REGINA GEORGE:          from Mean Girls, 2004
It's definitely an odd choice but Mean Girls was the deal back in 2004 and Rachel McAdams as Regina George was among the reasons the movie has become so beloved in the first place. I myself still use some of the quotes from the movie now and then.
HAYLEY STARK:          from Hard Candy, 2005
Ellen Page hit all the right spots as Hayley Stark. Her character was such a surprise that I'm still a little surprised. Though not the best movie out there, Stark as a character is definitely among the ones that I will remember years from now.
MIRANDA PRIESTLY:          from The Devil Wears Prada, 2006
Villains are always much more fun to watch, and when Meryl Streep is handed a character like Miranda Priestly, the results are stunning. My favorite moment is when Miranda breaks down, and you get to see under the layers she has built for herself.
TED CRAWFORD:          from Fracture, 2007
A thriller with a villain like Ted Crawford is definitely a guilty pleasure of mine. Anthony Hopkins and his Crawford was calculated, calm and creepy all while looking relatively normal.
JOKER:          from The Dark Knight, 2008
If there's a character I love beyond anything else in the world, then it's Heath Ledger's Joker! I can't really explain it, it's painful really because part of me really believes Ledger embodied Joker so deeply, it drove him towards decisions that were bad for him.
CHARLEY:          from A Single Man, 2009
Though the movie doesn't allow Julianne Moore as Charley shine enough, she is still memorable. The sadness behind that woman is what somehow got to me, and that kind of sadness really breaks your heart.
NINA SAYERS:          from Black Swan, 2010
Though I'm still not a big fan of Natalie Portman, I'm a fan of Nina Sayers as a character. The sheer determination of being the best, and doing whatever it takes to be the best, somehow always makes for great characters.
LISBETH SALANDER:          from The Girl With a Dragon Tattoo, 2011
The reason Rooney Mara as Lisbeth Salander makes my list not Noomi Rapace is because I liked the US version a little bit more. Partially because Daniel Craig was good on the eye, but it doesn't matter really, Salander's character is great on all fronts: on page and on the screen.
KATNISS EVERDEEN:          from The Hunger Games, 2012
Sure, Jennifer Lawrence is not my favorite person at the moment, but I can't deny that her Katniss Everdeen translated well on screen. I loved the book, and I loved the first movie because Katniss was exactly how I had imagined her while reading the series.
SAMANTHA:          from Her, 2013
How can I not include a character that doesn't even exist physically? Samantha, voiced by Scarlett Johansson, feels so authentic and most importantly, human, that it's hard to think of her simply as a program but that's the beauty of Samantha, the beauty and the horror.
AMY DUNNE:          from Gone Girl, 2014
After my second viewing of Gone Girl, I fell in love with Amy Dunne even more than I had the first time around. If a second viewing can bring out so many nuances, imagine what the third can do? Or the fourth? And that's the beauty of Rosmunde Pike as Amy Dunne – layers upon layers upon layers.
MAD MAX:          from Mad Max: Fury Road, 2015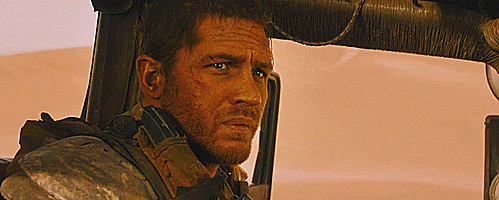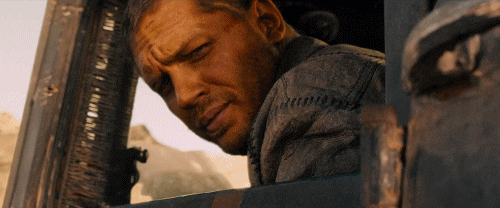 Despite a great year of many great characters from 2015, Tom Hardy brought down the house with Mad Max! Given the lack of words spoken by Max, most of his appeal was delivered physically and more importantly, through facial expressions that were telling us more than words ever could.
0