Between fighting minor cold symptoms and attacking the stupid fever with lots of tea, I tried my best to come up with a post to celebrate my birthday. Though I have had some great ideas for the fifth blog birthday coming up in May, I didn't really think about my own celebratory time of the year where I add another number to my old age. Granted, not old yet but I like to joke that I am because while I act like a 5 year old and can sort of pull off looking like an 18 year old (I've been told that I do), so I like to state that I'm actually really really old.
So the old me brings you 26 scenes from 26 years I've been on this Earth and since I'm a little under the weather, I'll try to keep it short and simple (PS: I didn't). By the way, all these scenes could be considered sort of favorites as well!
OH CAPTAIN, MY CAPTAIN:          from Dead Poets Society, 1989
It's unfortunate to start off with such a sad scene for so many reasons. First, this scene is bitter sweet itself in the movie. Second, it's devastating for all of us who consider themselves movie lovers, because when you love movies, you love the work of Robin Williams. And yet, this scene breaks my heart for all the right reasons.
ALL THAT SHOPPING:           from Home Alone, 1990
With so many scenes to choose from Home Alone, I went with the one that still makes me smirk for all the right reasons. Kevin successfully shopped for all the necessities, he even got a toothbrush and yet, he still somehow manages to make a mess. I love it!
I ATE HIS LIVER:          The Silence of the Lambs, 1991
There isn't really a need to pick a specific Hannibal Lecter scene from The Silence of the Lambs because they are all spectacular. I ate his liver is one of them but with Anthony Hopkins as Hannibal you just really can't pick one.
OH MARIA:          Sister Act, 1992
Is this a silly choice? Sure. Do I still love it? Yes! That's just what it's like with the 90's, you might not think much of these scenes now, but they are and will forever remain nostalgic. So heads up, Sister Act's Oh Maria is just one of many silly choices from the 90's.
WILLY IS FREE:          from Free Willy, 1993
There were so many choices from 1993 that I considered but I went with this particular scene because why not. Free Willy is among the first movies I remember watching and that ending was great back then, and can be great now!
HAKUNA MATATA:         from The Lion King, 1994
Now, 94 was a great year and I could literally pick 26 scenes from that year alone with Pulp Fiction, The Shawshank Redemption, Forrest Gump, Interview With the Vampire, The Mask and even Junior. But those movies don't represent childhood like The Lion King does so.. Hakuna Matata forever!
THE BOX:         from Se7en, 1995
I began this blog by not really knowing the name David Fincher but through the years I've discovered that his movies have always stood out from the crowd. Se7en is no exception and though there are many scenes from it I'd pick but I decided to go with the box cause fck yeah!
WELCOME TO EARTH:         from Independence Day, 1996
Can we just appreciate the fact that Will Smith knocked out an alien? Like, how is this not a more common way to defeat aliens because this is hilarious! And besides, for some odd reason, Independence Day remains one of my favorite end of the world movies because it kicks the alien in the face with a fist!
AT LEAST I WON'T BE UNORIGINAL:         from Good Will Hunting, 1997
There's something so comforting about Good Will Hunting but I can't really put my finger on it. It's a simple movie, from simple men but it meant so much for them. This bar scene, where Will literally destroys a guy with words and not his fists, was where I fell in love with this movie.
OMAHA BEACH:          from Saving Private Ryan, 1998
No matter how many war movies I watch or how many war scenes I go through, Saving Private Ryan's  opening war scene that took place on Omaha Beach is still the best thing I've ever seen.
I CAN'T TAKE MY EYES OFF OF YOU:          from 10 Things I Hate About You, 1999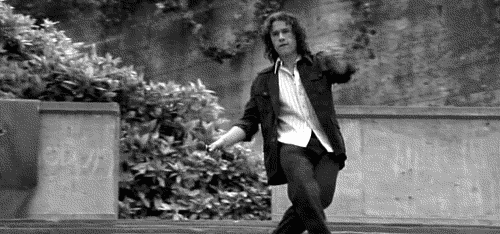 Nothing to add to Heath Ledger singing and dancing to I Can't Take My Eyes Off Of You.
NOW WE ARE FUCKED:          from Snatch., 2000
You really thought I'd pick anything else from 2000 other than Snatch.? Because I would never! The whole movie is genius, everything Brad Pitt does in Snatch. is genius! And I can't stress enough that wondering about the way this fight scene was filmed was the reason I started to really love movies!
IT'S RAINING MEN:          from Bridget Jones's Diary, 2001
Harry Potter, Lord of the Rings and Ocean's 11 all begun in 2001 but I pick Colin Firth and Hugh Grant fighting over Bridget Jones as my favorite scene. Sure, other three have a lot of great choices but Colin Firth and Hugh Grant don't fight in any of those movies!
TWO PLACES AT ONCE:          from A Walk to Remember, 2002
I might hate movies based on Nicholas Sparks novels now but I adore A Walk to Remember so so much. It's because it sparks so many memories, I can still remember direct quotes from it and I think their first date was filled with great moments, including the one where she is at two places at once. (You might need context to understand its importance.)
IS SHE IN THERE:          from Mystic River, 2003
By far the most emotional scene I could have picked from 2003 in my opinion. Granted, I'm not the biggest fan of Eastwood's work it seems but this movie was simply amazing with so many outstanding performances. But Sean Penn crying out for his daughter pretty much steals the show.
THE TIME TURNER:          from Harry Potter and the Prisoner of Azkaban, 2004
Time to add a Harry Potter scene because the third movie is my favorite and the whole time turner scene and everything that follows is just brilliant. Not just plot wise but how it all eventually connected together. Sure, there might be some flaws but I've never really looked out for them.
THE FORBIDDEN TOUCH:          from Pride & Prejudice, 2005
Single men and women during that time were not allowed to actually touch except on the dance floor, so when Mr. Darcy helps Elizabeth by holding her hand, he is literally going against everything. Nowadays it's nothing, people touch all the time and think nothing of it, but each touch meant so much more in the early 19th century.
THIS MOMENT:          from Peaceful Warrior, 2006
So many big choices from 2006 but I decided to go with a lesser known movie called Peaceful Warrior because I'm a sucker for a sports movie. There's a hint of cliché in there but I don't care, I remember that scene too well to care and besides, that moment has a great meaning.
NOT MANY PEOPLE HAVE BASEMENTS:          from Zodiac, 2007
Nothing creepier than this scene!
WHAT BUS DRIVER:          from The Dark Knight, 2008
Everything about that opening sequence is gold and even with a mask, you have a sense of The Joker behind that mask, brought to you by Heath Ledger and if I could only express how difficult it was for me to watch The Dark Knight you would understand the emotional impact this opening scene will have on me forever.
YOU MAKE MY DREAMS COME TRUE:          from (500) Days of Summer, 2009
A little musical number will fit well into here now because it's all been so serious so far. (500) Days of Summer itself is still a really great movie, isn't it?
WIND AND PAPER:          from The Ghost Writer, 2010
Never would have I guessed that a pile of papers could be shown as an implication of death and yet, The Ghost Writer was able to do just that. For some reason that ending has stuck with me for all these years and I'm a sucker for a great ending!
DAVID LINDHAGEN:          from Crazy Stupid Love, 2011
Since this scene came as a total surprise for me (god knows how), I loved every single moment of it! This is comedy gold and I can't stress this enough that the name David Lindhagen will go down in the history as the most irritating name ever!
THE RAINMAKER:           from Looper, 2012
Guys, remember Looper? I do because I loved it and it still gives me chills to think back to that little boy having so much unexplained power. What I love most about this scene is the slow-motion blow up of the bad guy, it's a very nice effect.
LEMMON DRUG PHASE SCENE:           from The Wolf of Wall Street, 2013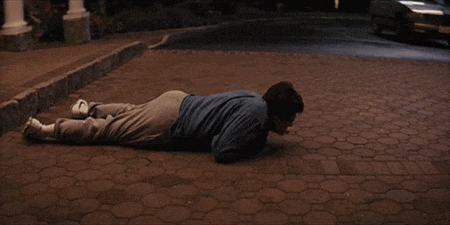 On Youtube it's described as hilarious but I think it's extremely scary… you would think this would stop people from doing drugs but apparently it's funny. Sure I laughed but when I think back to this movie, I think of this scene and it scares me a bit. Which makes it a very fascinating scene.
CARAVAN:          from Whiplash, 2014
Finally, it's the final scene of Whiplash that makes it to this list because it is fucking brilliant! I can't feature a video but you can listen to the song here. Just the song is giving me all kinds of feelings – man, was THAT a scene or what!?
0